Yuki-Onna Facial: Three Seed and White Willow Restorative Mask
Regular price

Sale price

$52.00
Why leave home when your couch is calling your name? 
Here at Wild Ice, the only thing we love more than good skincare is a cozy night in. So we formulated Yuki-Onna with spa-worthy ingredients for the full facial experience: in your pajamas! 
This plant rich wonder works as hard as your favorite esthetician. It starts by using lactic, glycolic and alpha hydroxy acids to refine and smooth your complexion. 
Then it polishes your skin with pomegranate, acai and blueberry seeds. And finally, a blend of nourishing plant extracts infuses your skin with vitamins for a glowy finish. 
You look well rested and healthy, even if you spent all night watching Netflix. 
Dispensing type: Jar
Net Contents: 100 ml; 3.4 fl oz
Ingredient Highlights
Directions

To apply as a mask: Spread a thin, even layer across face. Leave on for 15 minutes. After, rinse face thoroughly with lukewarm water while massaging skin in small circular motions. Pat dry.

PH balance immediately with Gaea's Gala, air dry, and follow with Cryo-C.

Dry or oily skin? We've designed Yuki-Onna to be a customizable spa experience at home, which means you'll use it differently based on your own unique complexion!

If your skin is dry or sensitive, use Yuki-Onna as a mask up to two times per week by leaving it on your face for 10-15 minutes. Then, use Yuki-Onna as a scrub an additional two times per week.

If your skin is oily, use Yuki-Onna as a mask up to two times per week by leaving it on your face for 10-15 minutes. Then, use Yuki-Onna as a scrub an additional four times per week.
Full Composition

Key ingredients:

Blueberry, acai and pomegranate seeds provide natural exfoliation without damaging your delicate facial skin.

White willow and lactic acid keep acne at bay while reducing darkness and hyperpigmentation.

Organic sunflower and aloe extract are full of antioxidants that renew the look of your skin, so you look glowier every day.

Chamomile soothes tired, inflamed skin and banishes redness.

Ingredients: Distilled Water (Aqua), Willow Bark (Salix Nigra) Extract†, Abyssinian (Crambe Abyssinica) Oil*, Sunflower (Helianthus Annuus) Seed Oil, Vegetable Glycerin (Glycerin)*, Pomegranate (Punica Granatum) Seed, Cranberry (Vaccinium Macrocarpon) Seed, Blueberry (Vaccinium Angustifolium) Seed, Cetearyl Alcohol, Cetearyl Olivate, Sorbitan Olivate, Lactic Acid, Glycolic Acid ,Salicylic Acid, Sorbic Acid, Chamomile (Anthemis Nobilis) Flower Extract, Rosemary (Rosmarinus Officinalis) Leaf Extract, Aloe (Aloe Barbadensis) Leaf Extract*, Sugar Cane (Saccharum Officinarum) Extract, Lemon (Citrus Limon) Fruit Extract, Apple (Pyrus Malus) Fruit Extract, Tea Plant (Camellia Sinensis) Leaf Extract, Helichrysum (Helichrysum Italicum) Oil†, Aloe (Aloe Barbadensis) Leaf, Hydroxypropyl Cellulose, Persian Lilac (Melia Azadirachta) Leaf Extract, Persian Lilac (Melia Azadirachta) Flower Extract, Amino Esters-1 (ex Mimosa Tenuiflora), Ivy Gourd (Coccinia Indica) Fruit Extract, Eggplant (Solanum Melongena) Fruit Extract, Aloe (Aloe Barbadensis) Flower Extract, Jojoba (Simmondsia Chinensis) Seed Oil, Hydroxypropyl Starch Phosphate, Holy Basil (Ocimum Sanctum) Leaf Extract, Basil (Ocimum Basilicum) Extract, Benzyl Alcohol, Turmeric (Curcuma Longa) Root Extract, Red Seaweed (Corallina Officinalis) Extract, Xanthan Gum

*=Organic Ingredient †=Wild-Crafted Ingredient
Skin Type
Skin Concerns
Share
The World's Only Cold-Preserved Skincare
Potent

Better preserved means the active ingredients you buy stay potent.

Healthy

Delicate nutrients remain intact, just like healthy produce in your fridge.

Clean

Ingredients don't react with each other so sensitizers can't form.

Gentle

Chemical preservatives are left out of the bottle, and off of your skin.
The Three Types of Breakdown
Cold vs Chemicals
Chemical preservatives inhibit bacterial digestion, but that's only one cause of product degradation.
Products change and lose efficacy due to redox reactions (electrons moving between atoms) as well as plant enzymes present in natural products.
Cold inhibits all three types of breakdown.
Together let's stop putting chemical preservatives on our skin, and start applying freshly cold-preserved skincare.
LEARN MORE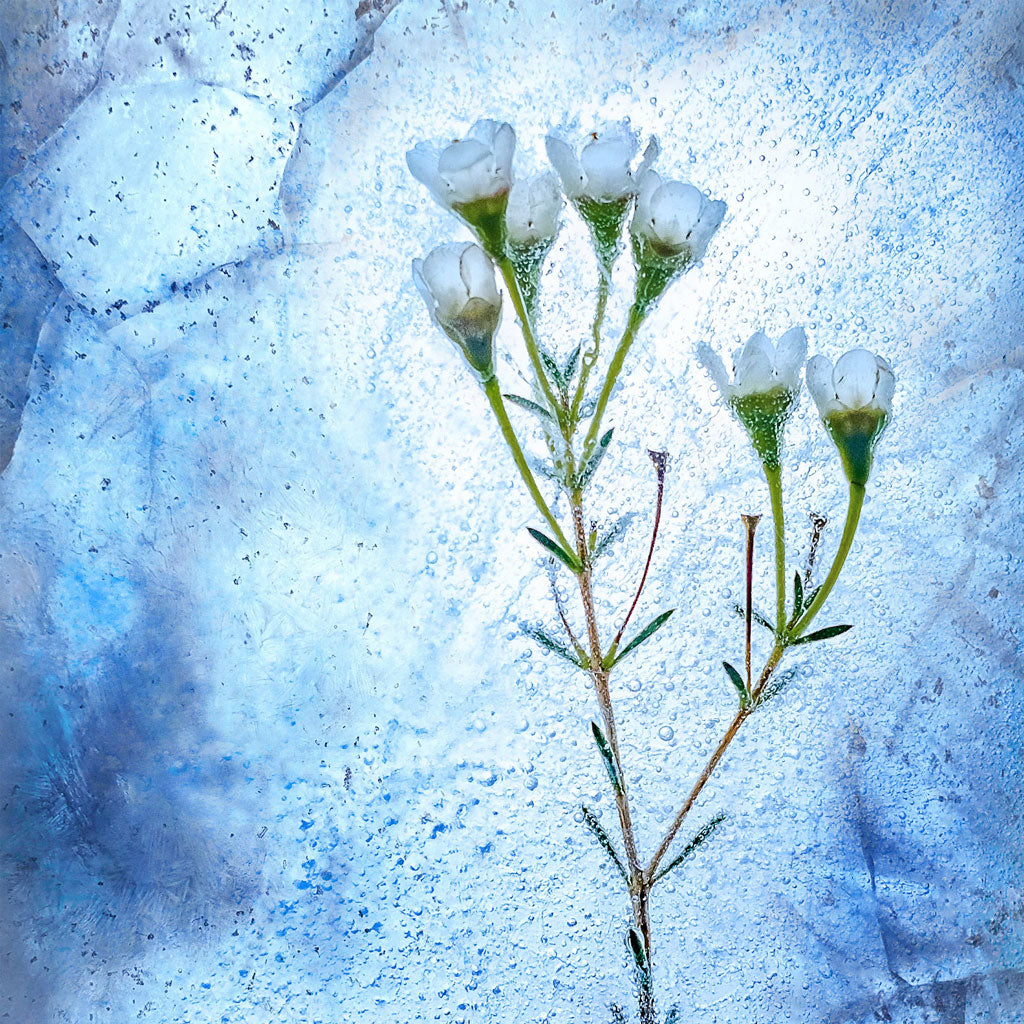 Customers Often ask
"Why Don't Other Brands Chill Too?"
"Cold seems like common sense, especially as clean & natural skincare has gone mainstream. So why aren't other larger brands doing what you do?"
It's a question we get all the time; the short answer is because it's hard.
Brands want to go into retail chains, they want to be distributed by major logistics companies, and they want to outsource production to one of a few big production houses.
None of these are equipped to offer cold preservation for ingredients and products. And because they can't, they don't.
Want the more detailed answer? It's the first one on our FAQ page.
Read the FAQ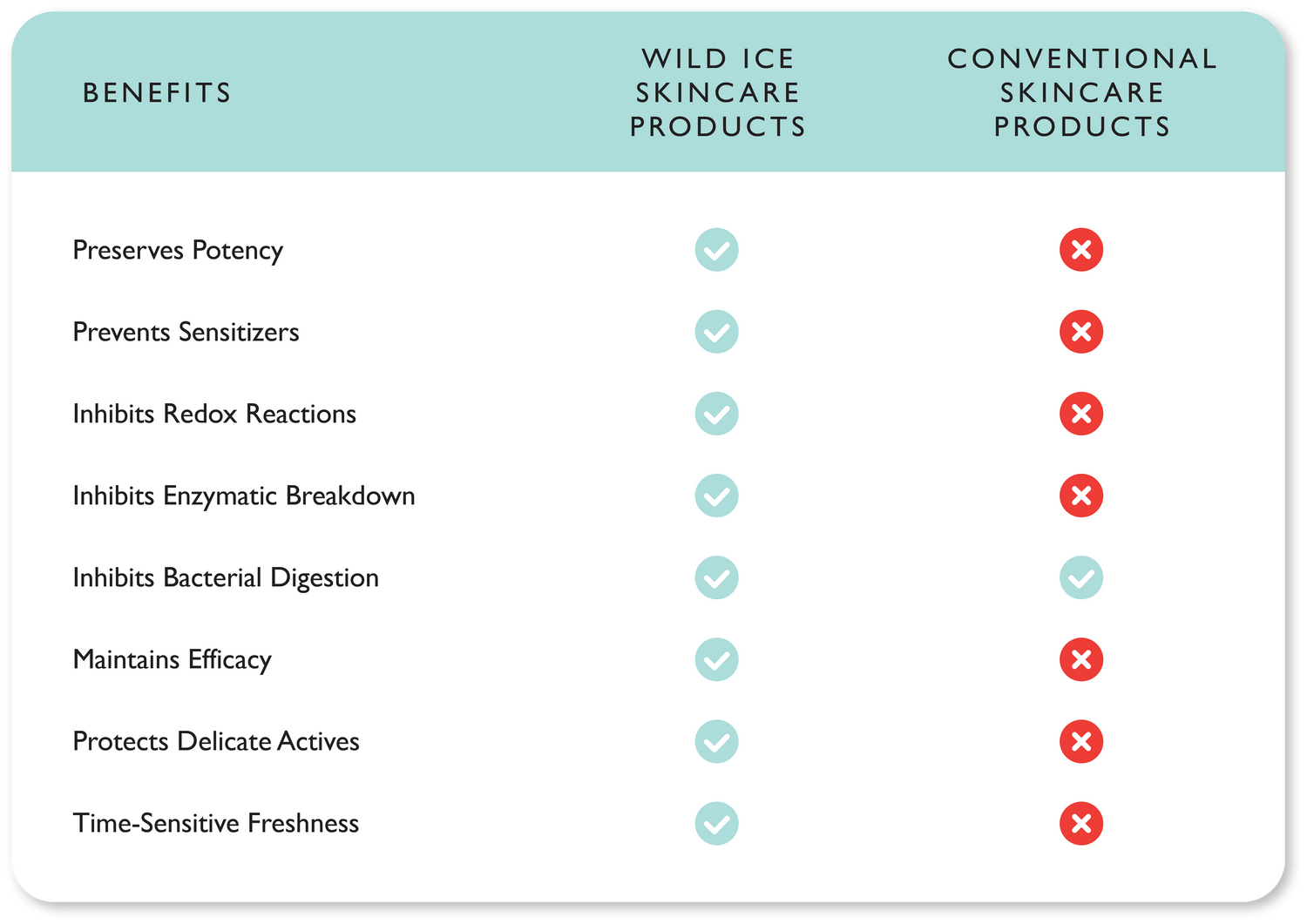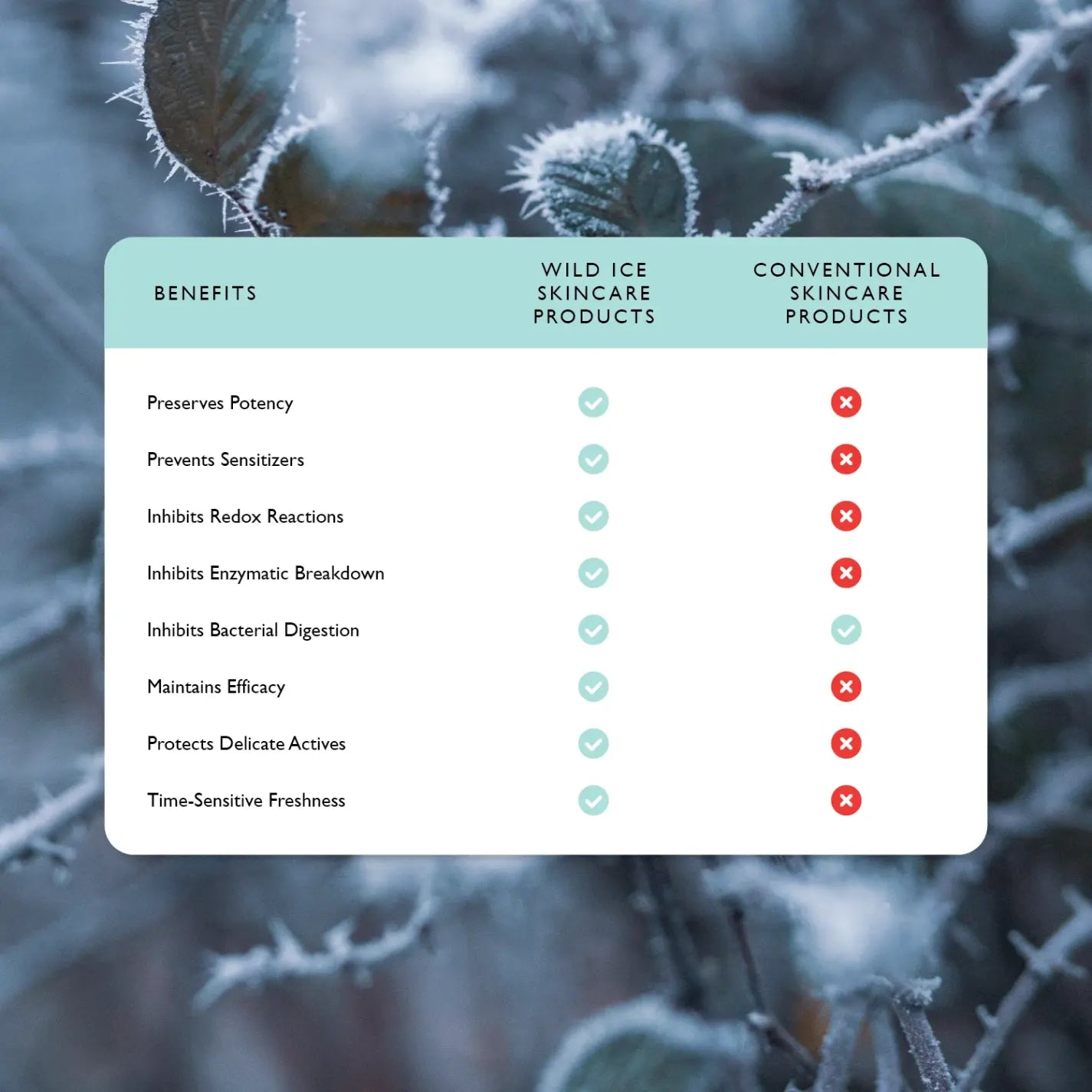 Cold Seems like common sense because
Cold Is Common Sense
✓ Products are fresh & naturally preserved
✓ Delicate actives remain intact & effective
✓ Chemical preservatives are left off your skin
✓ Antioxidants are applied before their oxidation
✓ You get the pristine formula you paid for
Wild Ice Skincare Success Stories
Discover the amazing results achieved by real people who have used Wild Ice skincare products
Why we chill ✼
Preserve Potency

Chilling inhibits all three types of breakdown - Redox Reactions, Enzymatic Activity, and Bacterial Digestion.

This ensures that your skincare products stay potent and effective until the moment of sale, maintaining their efficacy over time.

Freshness Matters

Just like how fresh produce is considered healthier, the same holds true for skincare.

Mini-fridges for skincare collections have become popular because they help maintain the freshness and efficacy of skincare products, and Wild Ice understands the importance of freshness in skincare preservation.

Pure and Safe Formulas

Ingredients in skincare products can break down over time, losing their potency and forming unintended compounds, including harmful sensitizers.

A formula that is not chilled may not stay pure for long, as breakdown and unintended compound formation can occur.
FAQs
Since Yuki-Onna contains acids, do I need to wear sunscreen after use?
Can Yuki-Onna really replace my regular spa facials?
Do I need to keep Yuki-Onna cold?
Do your products contain any hidden ingredients?
Do I need a cosmetics mini-fridge?
Do you test any of your products on animals?
Are your products vegan?
Face glows!
This mask feels good, smells good and my skin looks amazing after I use it
Three Seed Mask
Love it Mila...but I love everything!! Keep doing what you're doing! Your products are beautiful and so wonderful!!!!🥰
Love it
I absolutely love this scrub/mask. My face feels so velvety after I use it along with the 4 step system, my skin has improved greatly with hydration and tone. I've been using her products for about a year now.
Loved Yuki-Onna Facial Mask
At 70+ years old with dry, sensitive skin, I am very pleased with this product. My skin felt smoother and shinier after using as directed. I am delighted with the results from using Yuki-Onna Facial Mask and am recommending it to my friends.
Yuki-Onna Facial
Yuki-Onna Facial is one of my favorite Wild Ice products!! It smells so clean and fresh and makes my skin feel soft and hydrated. I am super picky about scent and texture and this one is just all around amazing! I keep it in my refrigerator and when I apply it, the coolness and scent make me feel rejuvenated and like I'm doing something great for my skin! I've been using Wild Ice for over 2 years now and will continue to be a faithful customer, as keeping my skin healthy and youthful is a big priority to me!
Yuki Onna facial
This is my second purchase of the facial product. I met Mila at the Pensacola market and decided to give it a try. I love it! I purchased again on line and added some other products. No dryness, breakouts, feels great. I've used department store products for years and I definitely prefer the Wild Ice products.
Gentle and effective
This mask surprised me in both its efficacy and gentleness! It's truly a rarity to find an exfoliating product that both nourishes AND sloughs away dead skin cells without creating irritation. This mask along side CryoC give you the most beautiful glow. One of my all time favorite products.
I like it!
This product feels nice and it's so pretty. I adore the packaging. Would not hesitate to recommend to everyone. 💙
Great facial
What a great product. Leaves my skin as soft and hydrated as a professional facial!
Best Face Mask!
I've been breaking out for about a week and have been using this mask. I've used it every other day for about a week and it's cleared my skin right up! It's so gentle yet very effective!
GET YOUR ROUTINE CHEAT-SHEET
Receive a personalized routine, take 10% off your first order, gain access to our Droplets reward program, and offer perks to friends. How's that for chill?
Take The Quiz