Cryo-C: Sea Buckthorn and Vitamin C Facial Glow Serum
Regular price

Sale price

$74.00
Get glowier by the day. Cryo-C is our vitamin C packed serum that illuminates your skin with every use. A customer favorite, this daily tonic treats your face with the reverence it deserves. In other words, it's free of all the harsh chemicals that only dull your shine.
Instead, we've formulated Cryo-C with nourishing antioxidants like sea buckthorn and vitamin E to coax out your natural radiance. And the love doesn't stop there. We've added anti-inflammatory squalene oil to preserve and protect your newfound glow.
Dispensing type: Pump Top
Net Contents: 50 ml; 1.7 fl oz
Ingredient Highlights
Directions

Use Cryo-C after toning to brighten and nourish your skin.

Shake gently, then massage two to three pumps onto your face and neck.

Repeat morning and evening and follow with D.B.T. Baba Yaga to seal and protect.

Store cool and out of direct sunlight. Avoid contact with eyes.
Full Composition

Ingredients: Jojoba (Simmondsia Chinensis) Oil*, Rosehip (Rosa Canina) Oil*, Amaranthus Squalane Oil, Vitamin C (Ascorbyl Tetraisopalmitate), Cranberry (Vaccinium Macrocarpon) Seed Oil*, Sea Buckthorn (Hippophae Rhamnoides) Fruit Oil*, Strawberry (Fragaria Vesca) Fruit Extract, Vitamin E (non-GMO), Date (Phoenix Dactylifera) Seed Extract, Elderberry (Sambucus Nigra) Flower Extract, Carrot Seed (Daucus Carota) Oil*, Orange (Citrus Sinensis) Oil*, Caprylic/Capric Triglyceride, Pot Marigold (Calendula Officinalis) Flower Extract*, German Chamomile (Matricaria Recutita) Flower Extract*

*=Organic Ingredient †=Wild-Crafted Ingredient
Skin Type

Combination
Dry
Normal
Sensitive
Skin Concerns

Dark Spots
Dryness
Wrinkles
Redness
Share
The World's Only Cold-Preserved Skincare
Potent

Better preserved means the active ingredients you buy stay potent.

Healthy

Delicate nutrients remain intact, just like healthy produce in your fridge.

Clean

Ingredients don't react with each other so sensitizers can't form.

Gentle

Chemical preservatives are left out of the bottle, and off of your skin.
The Three Types of Breakdown
Cold vs Chemicals
Chemical preservatives inhibit bacterial digestion, but that's only one cause of product degradation.
Products change and lose efficacy due to redox reactions (electrons moving between atoms) as well as plant enzymes present in natural products.
Cold inhibits all three types of breakdown.
Together let's stop putting chemical preservatives on our skin, and start applying freshly cold-preserved skincare.
LEARN MORE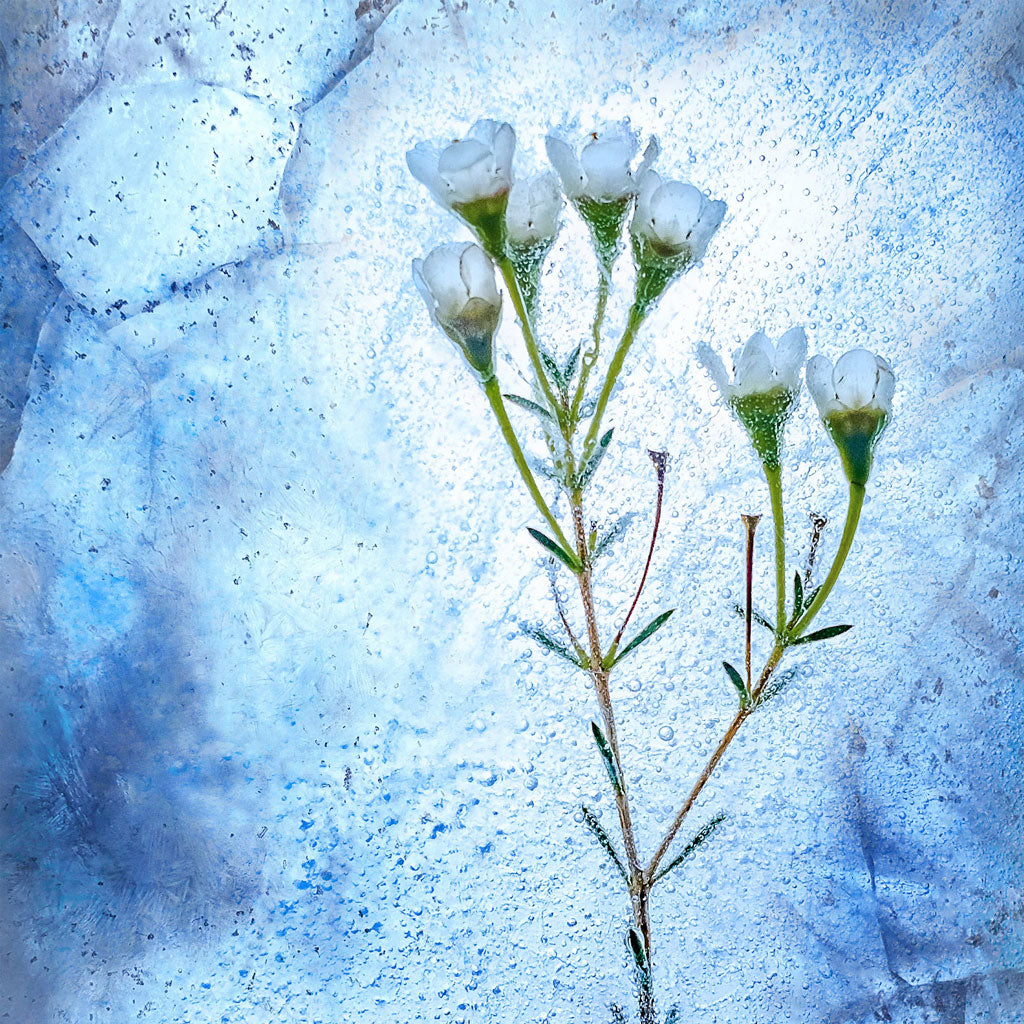 Customers Often ask
"Why Don't Other Brands Chill Too?"
"Cold seems like common sense, especially as clean & natural skincare has gone mainstream. So why aren't other larger brands doing what you do?"
It's a question we get all the time; the short answer is because it's hard.
Brands want to go into retail chains, they want to be distributed by major logistics companies, and they want to outsource production to one of a few big production houses.
None of these are equipped to offer cold preservation for ingredients and products. And because they can't, they don't.
Want the more detailed answer? It's the first one on our FAQ page.
Read the FAQ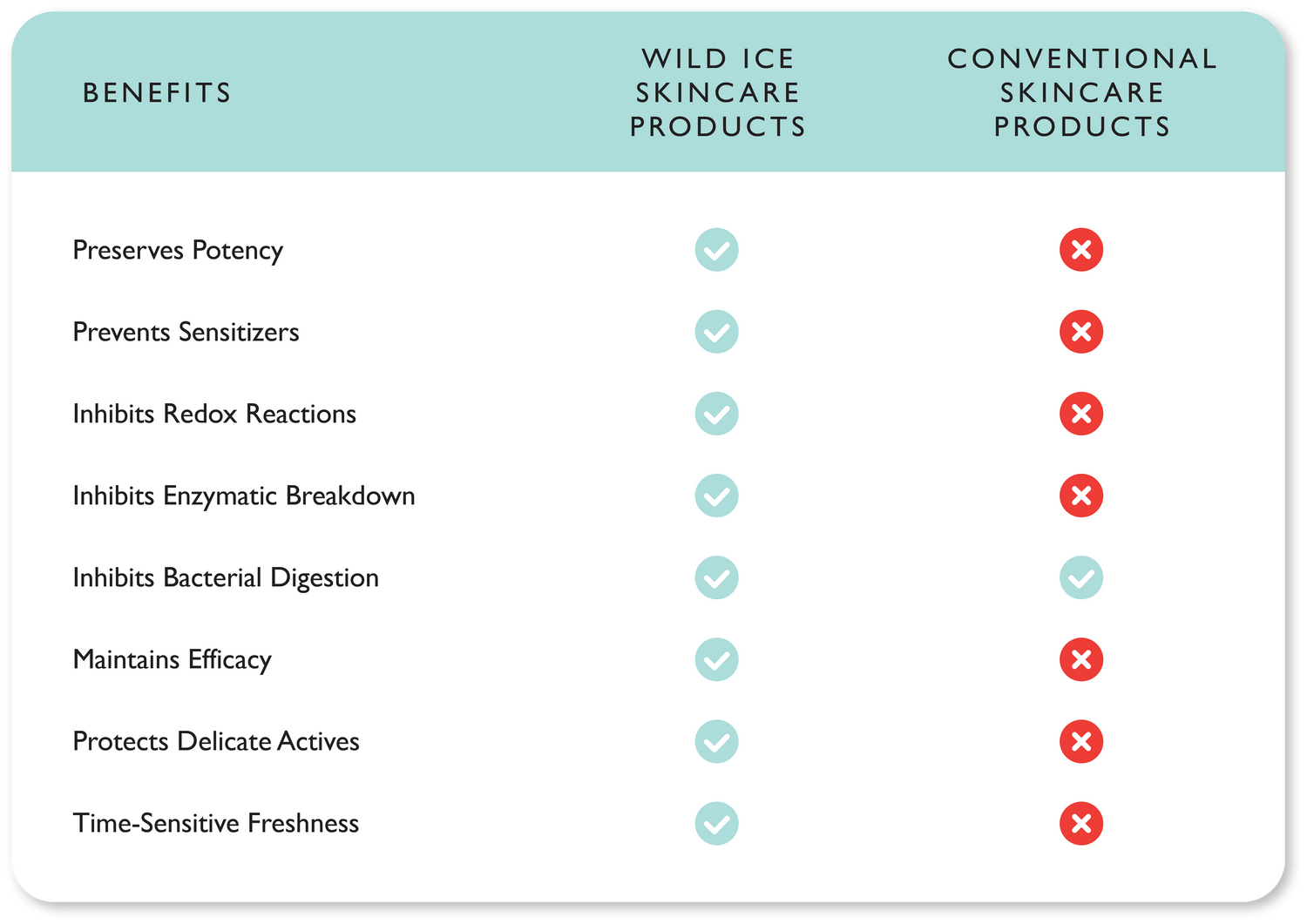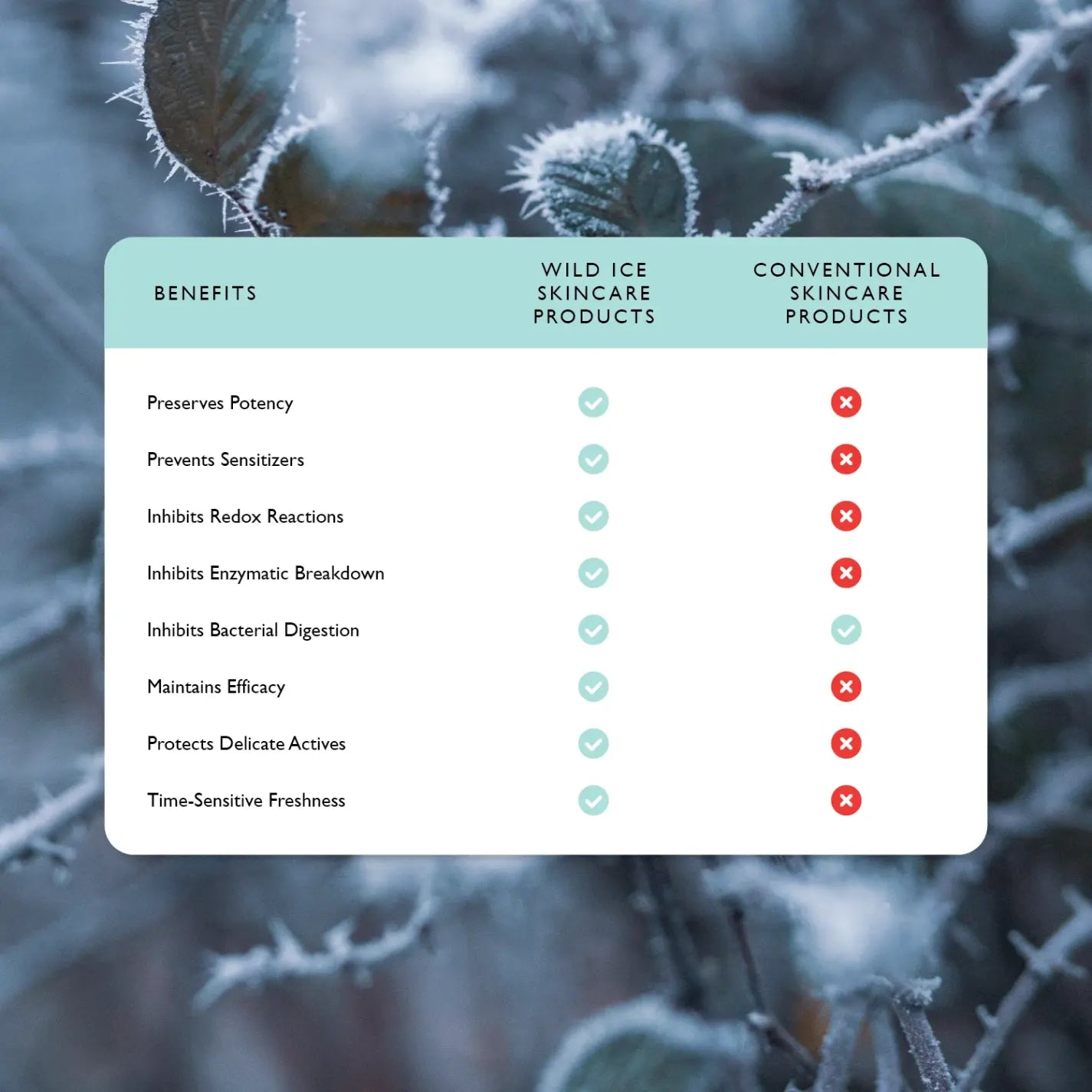 Cold Seems like common sense because
Cold Is Common Sense
✓ Products are fresh & naturally preserved
✓ Delicate actives remain intact & effective
✓ Chemical preservatives are left off your skin
✓ Antioxidants are applied before their oxidation
✓ You get the pristine formula you paid for
Wild Ice Skincare Success Stories
Discover the amazing results achieved by real people who have used Wild Ice skincare products
Why we chill ✼
Preserve Potency

Chilling inhibits all three types of breakdown - Redox Reactions, Enzymatic Activity, and Bacterial Digestion.

This ensures that your skincare products stay potent and effective until the moment of sale, maintaining their efficacy over time.

Freshness Matters

Just like how fresh produce is considered healthier, the same holds true for skincare.

Mini-fridges for skincare collections have become popular because they help maintain the freshness and efficacy of skincare products, and Wild Ice understands the importance of freshness in skincare preservation.

Pure and Safe Formulas

Ingredients in skincare products can break down over time, losing their potency and forming unintended compounds, including harmful sensitizers.

A formula that is not chilled may not stay pure for long, as breakdown and unintended compound formation can occur.
FAQs
Other vitamin C serums clog my pores. Will Cryo-C make me break out?
What kind of vitamin C does Cryo-C use?
Is Cryo-C okay to use on oily skin?
Will Cryo-C heal my scars?
Does Cryo-C contain synthetic dyes or fragrances?
Do I need to keep Cryo-C cold?
Do I need a cosmetics mini-fridge?
Do you test any of your products on animals?
Are your products vegan?
Cryo-C
This stuff is amazing! My daughters face has cleared dramatically since using!
It's Amazing
I have used various Vitamin C serums and this one checks a lot of boxes. It smells great, it gives a healthy glow, it has beautiful packaging, the price is good and you know it's good for you with no preservatives or ingredients that are questionable for safety.
Cryo-C magic
This month I tried yet another product in this skincare line - Cryo-C. I love the gentle herbal smell of the product. It goes on smoothly and absorbs into the skin in just the right amount of time so I don't feel like a greaseball before bed. I will definitely order it again.
The BEST Vitamin C Serum
Cryo-C is the first product I tried from Wild Ice! It has completely transformed my skin over the last 5 months! It feels and smells amazing as well!
Great products!
Great products, great results!
Love how my face feels.would recommend it to others
Love this product!
Last year I stumbled upon this product at the Rosemary Beach Farmer's Market and I fell in love. I use it EVERY day. My day doesn't feel right without it. It gives me a natural glow and my skin feels so dewey.
Love this serum!
I love how it glides onto my skin. It's not greasy at all. My skin feels hydrated & glows!
A wonderful feeling
These products are wonderful. My face was distressed after using a very irritating product. A few days of Wild Ice routine and a huge difference. Feels absolutely amazing
Cryo-C
This is the second purchase.Wew talked to Mila on vacation at the farmers market at her tent.
Wonderful product with a natural glow.Works Great,
Thank you
GET YOUR ROUTINE CHEAT-SHEET
Receive a personalized routine, take 10% off your first order, gain access to our Droplets reward program, and offer perks to friends. How's that for chill?
Take The Quiz