Laurel: Silver-Infused Aleppo Body Bar
Regular price

$150.00

Sale price

$125.00
We're thrilled to once more offer the bar that started it all.
Years ago when we first began, our one (and only) product was Laurel: an ideal body bar filled with abundant unsaponified oils working to replace your skin's natural oils lost during washing.
Silver - nature's microbicide - preserves and protects the bar, and your skin.
We stay true to the luxury Aleppo formula with 17% Laurel Oil in every bar.
Great for shaving due to the presence of abundant unsaponified oils.
Not just another soap, but a new take on the way soap should be. There's truly nothing else like it.
Ingredient Highlights
Directions

Formulated to assist troubled skin, leaving it protected with unsaponified olive, laurel, coconut, and lemongrass oils.

Hypoallergenic; unscented for the scent-sensitive.

Gentle yet effective, is ideal for babies; in fact care for our own was a chief inspiration for its design.

Ideal for shaving with a slick lather - both men and women, beards and legs.

For the softest skin, follow use with Berry Boreal Bod hydrating body oil in conjunction with twice weekly use of Wintry Fix Skin Softening Scrub.

Note that the natural, earthy scent is somewhat reminiscent of peat moss and may be an adjustment for those accustomed to heavily fragranced bars.
Full Composition

Ingredients: saponified organic oils of olea europaea (olive) and cocos nucifera (coconut); ionic nano-silver solution (20 ppm); saponified organic oils of laurus nobilis (laurel berry fruit) and cymbopogon citratus (lemongrass)
Skin Type

Oily
Combination
Dry
Normal
Sensitive
Skin Concerns

Acne & Blemishes
Dark Spots
Dryness
Wrinkles
Redness
Share
The World's Only Cold-Preserved Skincare
Potent

Better preserved means the active ingredients you buy stay potent.

Healthy

Delicate nutrients remain intact, just like healthy produce in your fridge.

Clean

Ingredients don't react with each other so sensitizers can't form.

Gentle

Chemical preservatives are left out of the bottle, and off of your skin.
The Three Types of Breakdown
Cold vs Chemicals
Chemical preservatives inhibit bacterial digestion, but that's only one cause of product degradation.
Products change and lose efficacy due to redox reactions (electrons moving between atoms) as well as plant enzymes present in natural products.
Cold inhibits all three types of breakdown.
Together let's stop putting chemical preservatives on our skin, and start applying freshly cold-preserved skincare.
LEARN MORE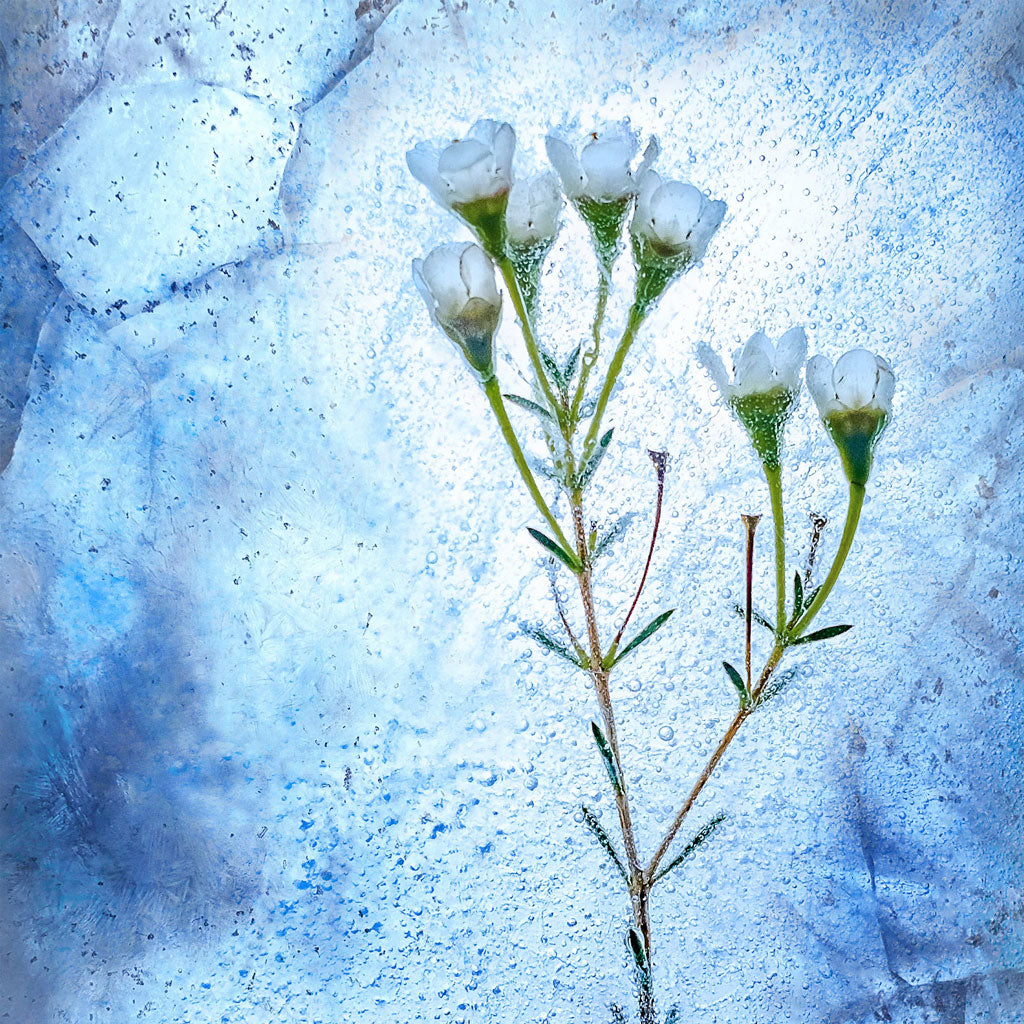 Customers Often ask
"Why Don't Other Brands Chill Too?"
"Cold seems like common sense, especially as clean & natural skincare has gone mainstream. So why aren't other larger brands doing what you do?"
It's a question we get all the time; the short answer is because it's hard.
Brands want to go into retail chains, they want to be distributed by major logistics companies, and they want to outsource production to one of a few big production houses.
None of these are equipped to offer cold preservation for ingredients and products. And because they can't, they don't.
Want the more detailed answer? It's the first one on our FAQ page.
Read the FAQ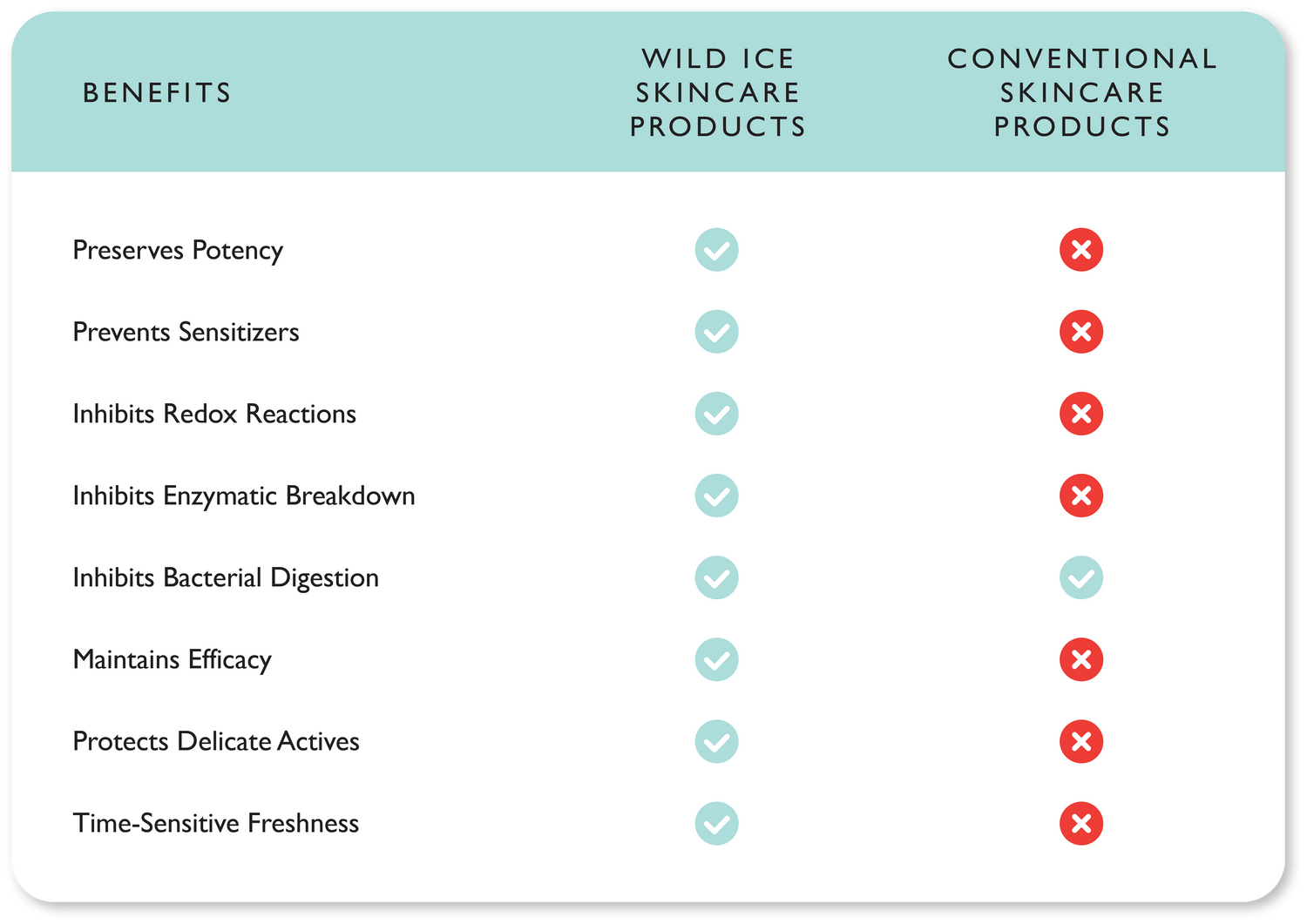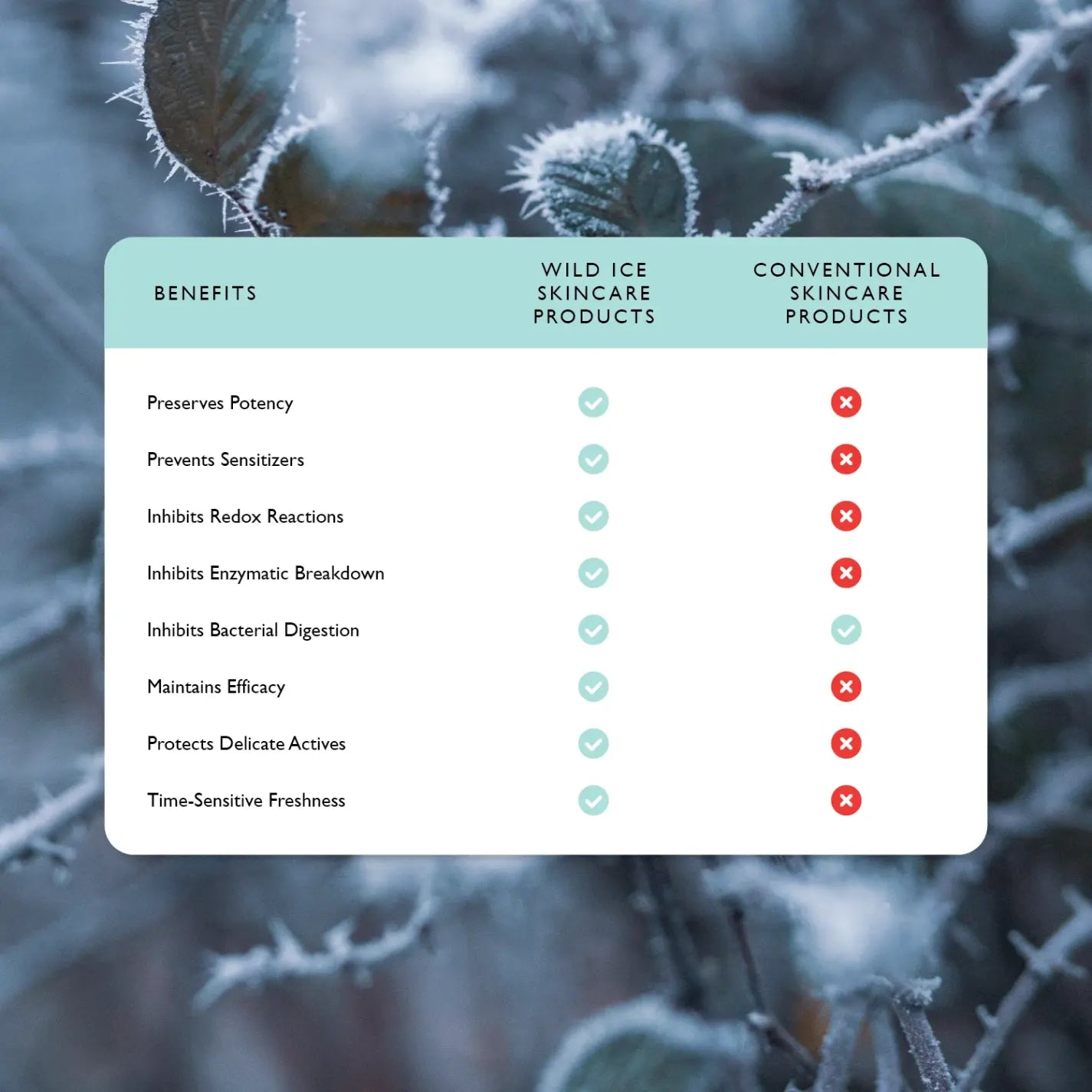 Cold Seems like common sense because
Cold Is Common Sense
✓ Products are fresh & naturally preserved
✓ Delicate actives remain intact & effective
✓ Chemical preservatives are left off your skin
✓ Antioxidants are applied before their oxidation
✓ You get the pristine formula you paid for
Wild Ice Skincare Success Stories
Discover the amazing results achieved by real people who have used Wild Ice skincare products
Why we chill ✼
Preserve Potency

Chilling inhibits all three types of breakdown - Redox Reactions, Enzymatic Activity, and Bacterial Digestion.

This ensures that your skincare products stay potent and effective until the moment of sale, maintaining their efficacy over time.

Freshness Matters

Just like how fresh produce is considered healthier, the same holds true for skincare.

Mini-fridges for skincare collections have become popular because they help maintain the freshness and efficacy of skincare products, and Wild Ice understands the importance of freshness in skincare preservation.

Pure and Safe Formulas

Ingredients in skincare products can break down over time, losing their potency and forming unintended compounds, including harmful sensitizers.

A formula that is not chilled may not stay pure for long, as breakdown and unintended compound formation can occur.
FAQs
Do your products contain any hidden ingredients?
Do you test any of your products on animals?
Are your products vegan?
Do you outsource formulation or production?
I am trying it out, I am not sure whether I love it, I like it….It maybe a bit too sweet for me, ...
I would recommend this product, as I would ALL Wild Ice products- excellent brand and overall skin changes are in progress since beginning daily use 2-3 months ago.
The BEST!
The Body Bar is the best you can use for your skin. It doesn't feel like you are washing or cleansing your skin, it feels like the softest gentle foam, leaving your skin hydrated, fresh, and pampered. This is worth every penny!!!!!
I love this soap it is all I use anymore. It has a nice fresh scent and keeps my skin from drying out. It also last a longer than other soap I use.
Amazing soap !
I have been using the laurel silver soap for a couple weeks now and I feel so clean and never dry every time I use it ! I am expecting a baby in December and this soap is perfect for me and my baby right now with no chemicals and no leaving dryness and am very excited and relaxed that I will be able to use it in both me and baby when he arrives into the world too ! Thank you Mila for all your knowledge and traditions. Many blessings.
Favorite way to shower!
I love this "soap"! It makes my skin feel clean but moisturized too. Lots of bars make skin feel itchy or funky this just leaves me feeling clean but moisturized at the same time. That's a hard combo!
Laurel: Silver-Infused Aleppo Body Bar
Body bars
I love the body bars!🤗❤️
They keep my skin feeling soft and clean.
I highly recommend them specially if you dry skin.
Fabulous!
I ordered 10 bars for myself and gifts this past Christmas. I've received many positive comments on the soap. Everyone loved it! One person uses it to bath her infant daughter because of it's pure ingredients. I use it all over including my face - it's great! I just ordered 10 more bars. Each bar lasts a long time - I just keep them on hand to give as gifts.
Great gift idea!
Giving products from Wild Ice, a " go to" idea for those who have everything,;yet need the best of everything!
GET YOUR ROUTINE CHEAT-SHEET
Receive a personalized routine, take 10% off your first order, gain access to our Droplets reward program, and offer perks to friends. How's that for chill?
Take The Quiz