Subscribe to Beautiful Skin: Our Complete System
Regular price

$413.00

Sale price

$247.80
Directions
Share
The World's Only Cold-Preserved Skincare
Potent

Better preserved means the active ingredients you buy stay potent.

Healthy

Delicate nutrients remain intact, just like healthy produce in your fridge.

Clean

Ingredients don't react with each other so sensitizers can't form.

Gentle

Chemical preservatives are left out of the bottle, and off of your skin.
The Three Types of Breakdown
Cold vs Chemicals
Chemical preservatives inhibit bacterial digestion, but that's only one cause of product degradation.
Products change and lose efficacy due to redox reactions (electrons moving between atoms) as well as plant enzymes present in natural products.
Cold inhibits all three types of breakdown.
Together let's stop putting chemical preservatives on our skin, and start applying freshly cold-preserved skincare.
LEARN MORE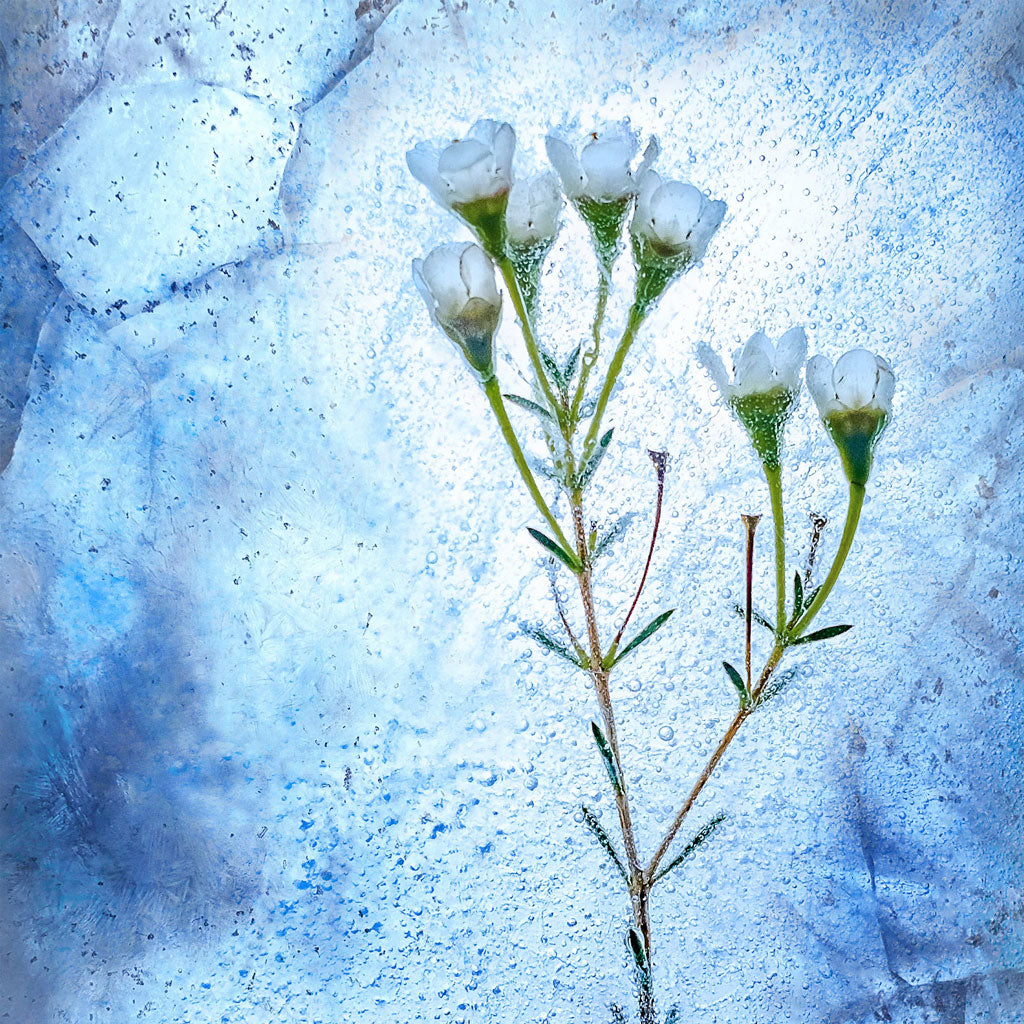 Customers Often ask
"Why Don't Other Brands Chill Too?"
"Cold seems like common sense, especially as clean & natural skincare has gone mainstream. So why aren't other larger brands doing what you do?"
It's a question we get all the time; the short answer is because it's hard.
Brands want to go into retail chains, they want to be distributed by major logistics companies, and they want to outsource production to one of a few big production houses.
None of these are equipped to offer cold preservation for ingredients and products. And because they can't, they don't.
Want the more detailed answer? It's the first one on our FAQ page.
Read the FAQ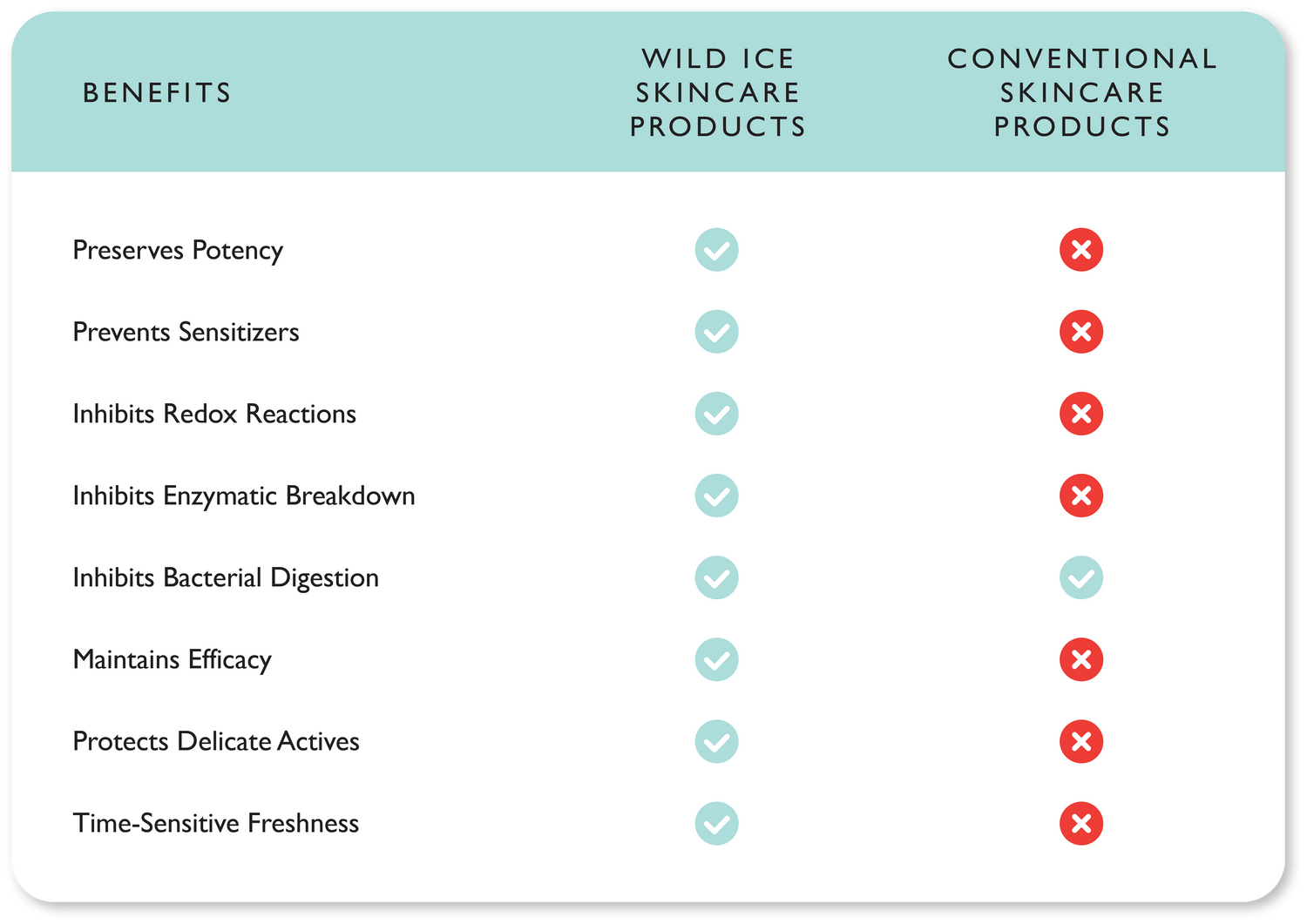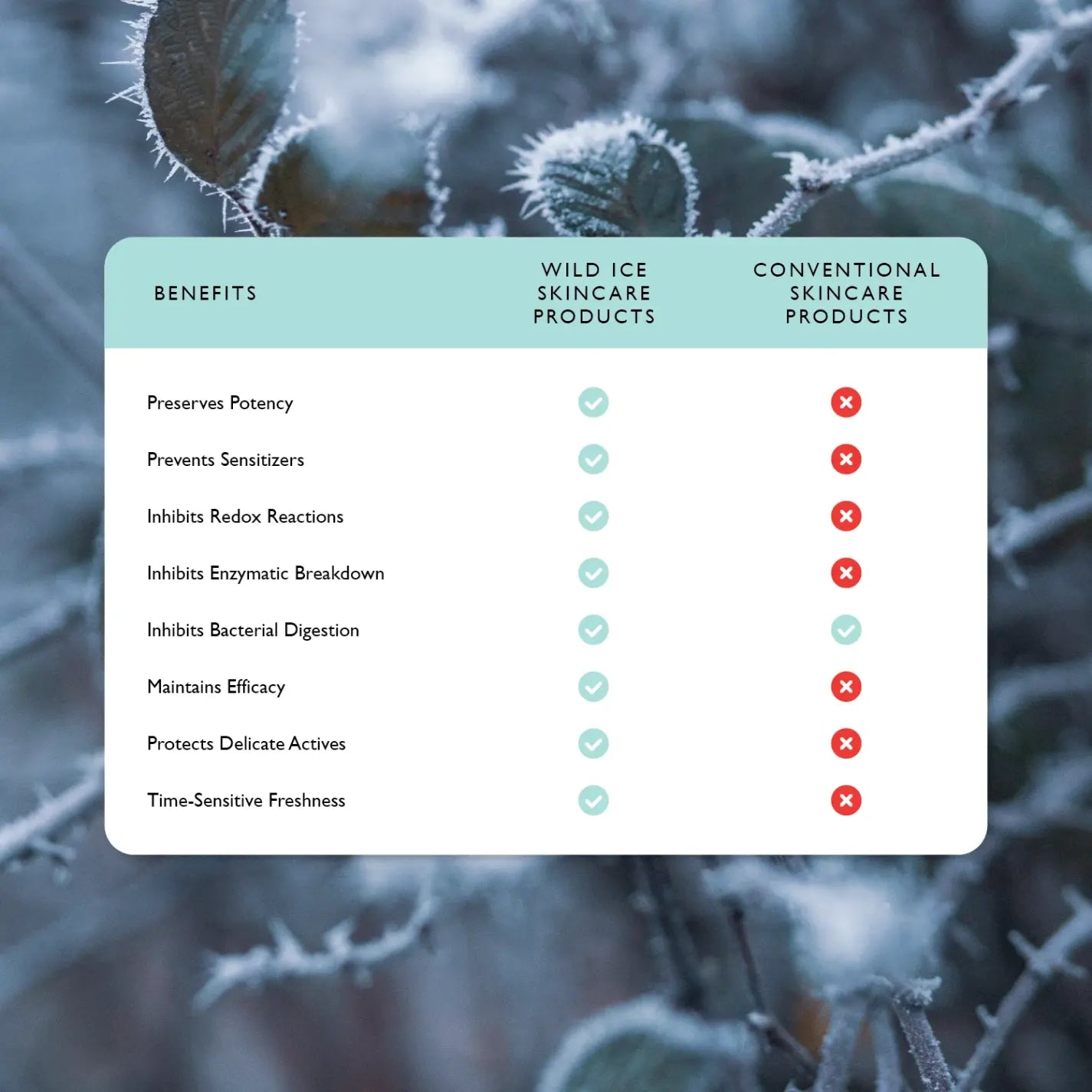 Cold Seems like common sense because
Cold Is Common Sense
✓ Products are fresh & naturally preserved
✓ Delicate actives remain intact & effective
✓ Chemical preservatives are left off your skin
✓ Antioxidants are applied before their oxidation
✓ You get the pristine formula you paid for
Wild Ice Skincare Success Stories
Discover the amazing results achieved by real people who have used Wild Ice skincare products
Why we chill ✼
Preserve Potency

Chilling inhibits all three types of breakdown - Redox Reactions, Enzymatic Activity, and Bacterial Digestion.

This ensures that your skincare products stay potent and effective until the moment of sale, maintaining their efficacy over time.

Freshness Matters

Just like how fresh produce is considered healthier, the same holds true for skincare.

Mini-fridges for skincare collections have become popular because they help maintain the freshness and efficacy of skincare products, and Wild Ice understands the importance of freshness in skincare preservation.

Pure and Safe Formulas

Ingredients in skincare products can break down over time, losing their potency and forming unintended compounds, including harmful sensitizers.

A formula that is not chilled may not stay pure for long, as breakdown and unintended compound formation can occur.
FAQs
Do your products contain any hidden ingredients?
Do I need a cosmetics mini-fridge?
Should I chill my Wild Ice products?
Do you test any of your products on animals?
Are your products vegan?
Great products
I have been using the 4 step process on my face and I just love them I am starting to see the difference and the glow 😊
Just Get It
I'm on my 3rd set of Mila's line and honestly I love everything about it from the performance, smell, packaging, safety and pricing. She was always one of the sweetest people I've ever met and I miss seeing her face at the Rosemary Farmer's Market but I am enjoying seeing her success in other ways. I follow along on her social media accounts and it always puts a smile on my face!
Wild Ice 4 Step Routine
I love the way my skin looks and feels. I wanted to try the entire steps process after using a few of the products individually and I am very pleased with the results. Morning and evening routine is easy and feels great. Thanks Wild Ice!
Wild Ice is the only way
I bought the completely kit after trying a few products! Little did I know…this would be one of my new favorite parts of the day! My skin craves this stuff!
Best skincare I've used
My skin is so much smoother and softer and younger looking. The products look high end and perform high end!
Favorite skin routine ever
I love the entire line, I had used individual products from Wild Ice separately before and loved them but all together as an entire routine is the best!
The best regimen!
I have tried so many different products and Wild Ice is by far my favorite! Even my husband noticed how even and bright my skin looks! I won't ever go back!
Best Skincare
I purchased this regimen last October 2022. I noticed my skin is more hydrated, glows and fresh looking without makeup! I'm a satisfied customer!
Appreciate the all-natural ingredients.
I've only used the products for a few weeks, so long-term effects are still unknown. However, so far, I can say how much I enjoy the natural fragrances of each product. If the scents were artificial, my throat would be restricted and I'd be tasting the chemicals within a few minutes.
GET YOUR ROUTINE CHEAT-SHEET
Receive a personalized routine, take 10% off your first order, gain access to our Droplets reward program, and offer perks to friends. How's that for chill?
Take The Quiz