Demystifying Skincare: Wild Ice Self-Care Beauty Class
Regular price

Sale price

$150.00
Who: You and up to seven others (maximum class size is eight). This booking represents a single seat, to book multiple seats simply check out multiple times.
What: A 90-minute class that teaches you how to get the best skin of your life with Wild Ice skincare products and proven facial massage techniques.
Why: Learn the habits you need to achieve a lifetime of beautiful, glowing skin and take home free Wild Ice products valued at $222 per person.
Where: To be held on Okaloosa Island, Florida; the precise address will be provided after booking.
When: Your choice of either 20 or 21 December with class beginning at 3:30 pm.
Directions
Share
The World's Only Cold-Preserved Skincare
Potent

Better preserved means the active ingredients you buy stay potent.

Healthy

Delicate nutrients remain intact, just like healthy produce in your fridge.

Clean

Ingredients don't react with each other so sensitizers can't form.

Gentle

Chemical preservatives are left out of the bottle, and off of your skin.
The Three Types of Breakdown
Cold vs Chemicals
Chemical preservatives inhibit bacterial digestion, but that's only one cause of product degradation.
Products change and lose efficacy due to redox reactions (electrons moving between atoms) as well as plant enzymes present in natural products.
Cold inhibits all three types of breakdown.
Together let's stop putting chemical preservatives on our skin, and start applying freshly cold-preserved skincare.
LEARN MORE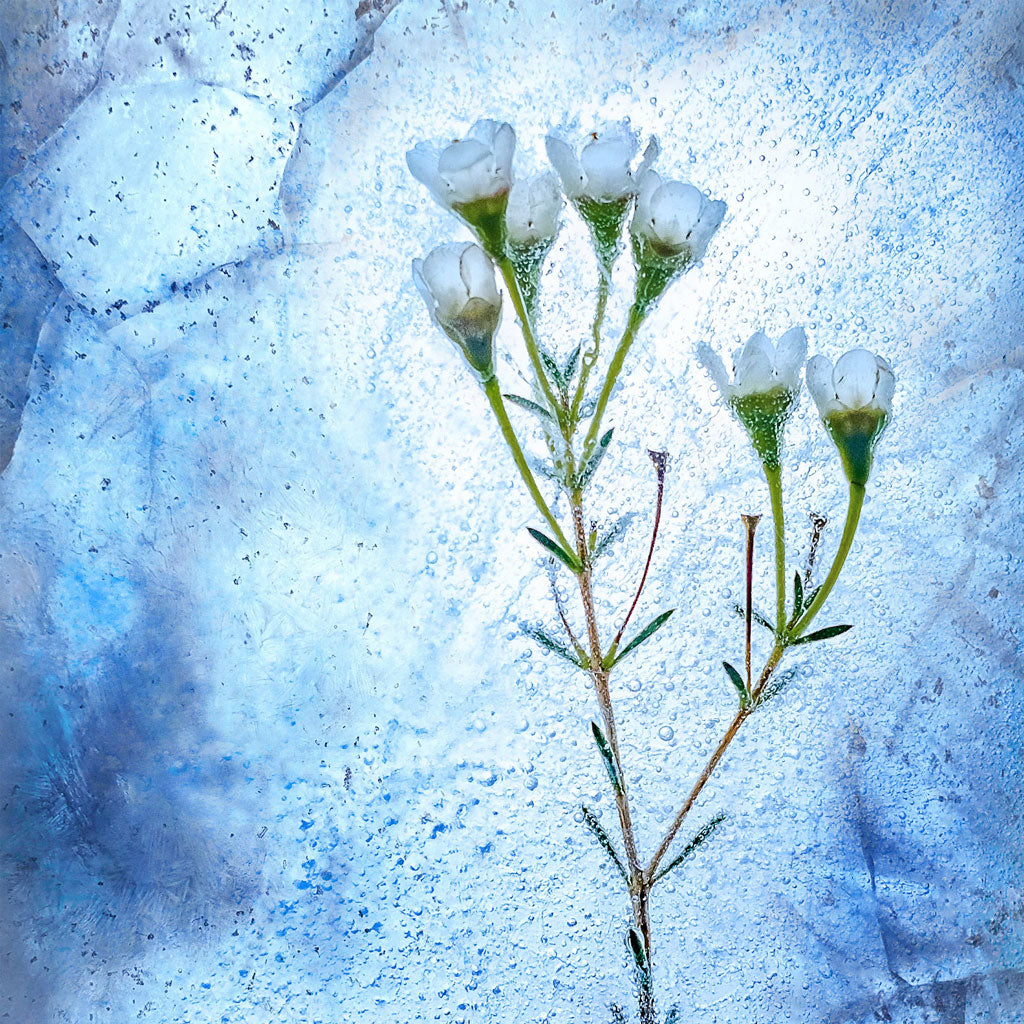 Customers Often ask
"Why Don't Other Brands Chill Too?"
"Cold seems like common sense, especially as clean & natural skincare has gone mainstream. So why aren't other larger brands doing what you do?"
It's a question we get all the time; the short answer is because it's hard.
Brands want to go into retail chains, they want to be distributed by major logistics companies, and they want to outsource production to one of a few big production houses.
None of these are equipped to offer cold preservation for ingredients and products. And because they can't, they don't.
Want the more detailed answer? It's the first one on our FAQ page.
Read the FAQ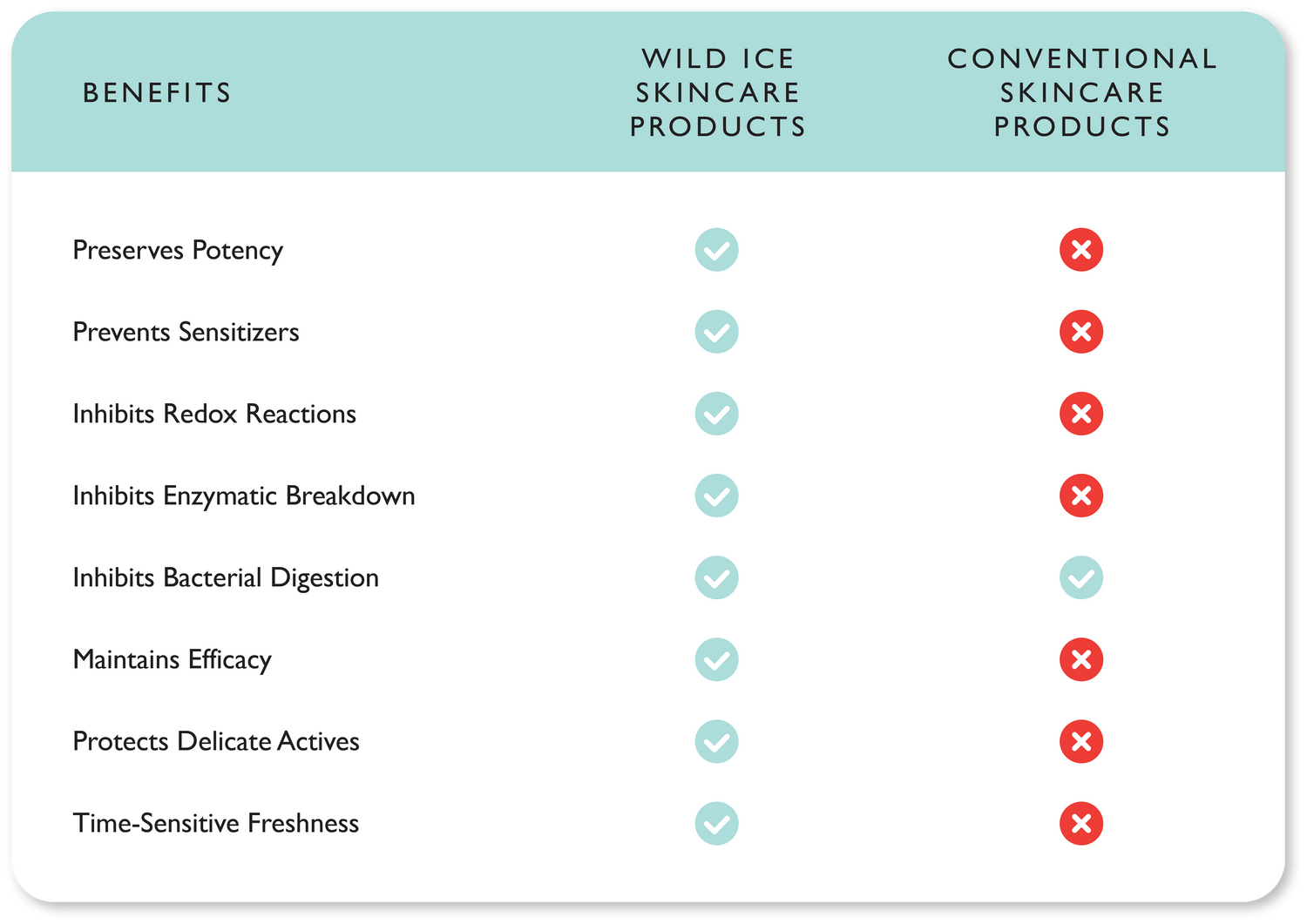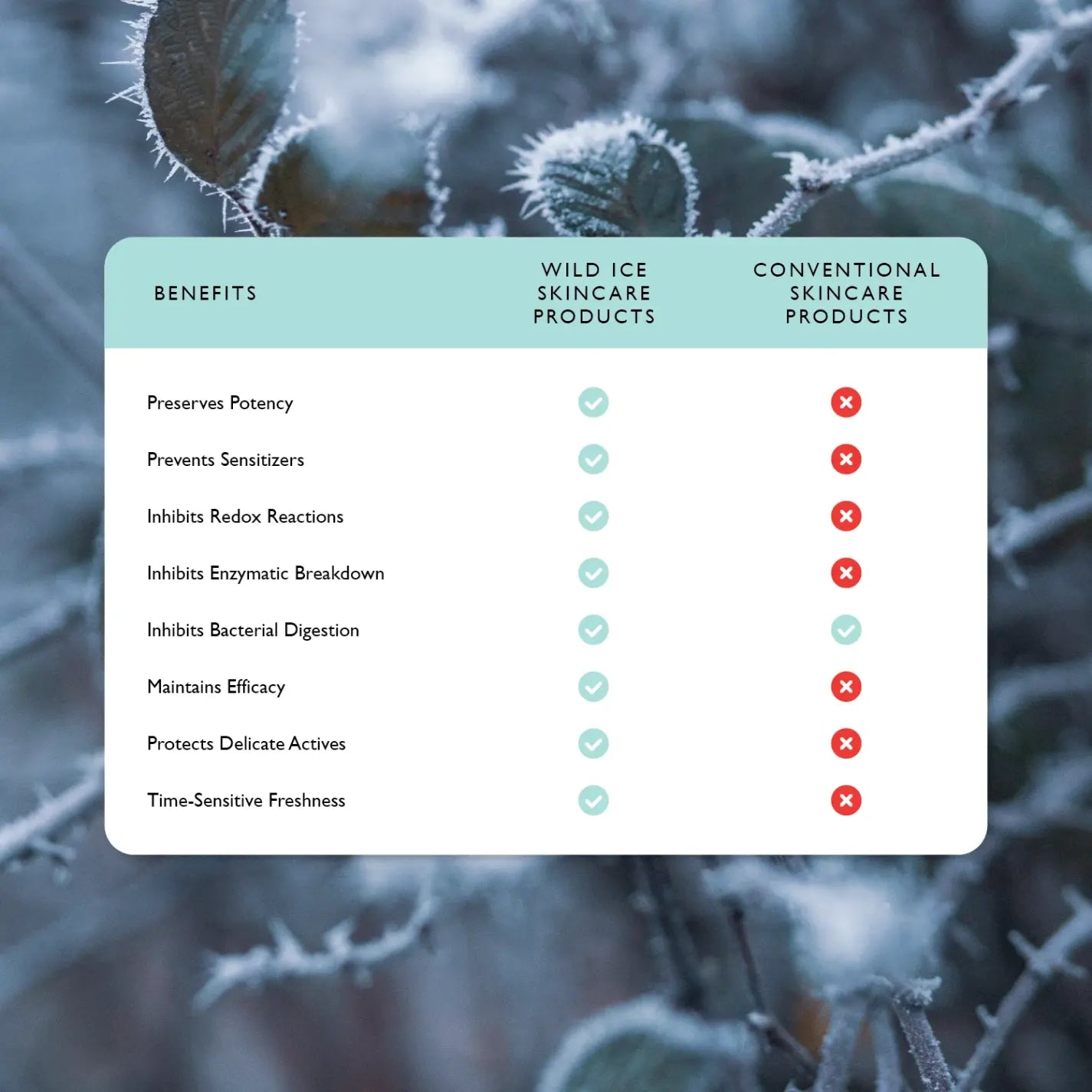 Cold Seems like common sense because
Cold Is Common Sense
✓ Products are fresh & naturally preserved
✓ Delicate actives remain intact & effective
✓ Chemical preservatives are left off your skin
✓ Antioxidants are applied before their oxidation
✓ You get the pristine formula you paid for
Wild Ice Skincare Success Stories
Discover the amazing results achieved by real people who have used Wild Ice skincare products
Why we chill ✼
Preserve Potency

Chilling inhibits all three types of breakdown - Redox Reactions, Enzymatic Activity, and Bacterial Digestion.

This ensures that your skincare products stay potent and effective until the moment of sale, maintaining their efficacy over time.

Freshness Matters

Just like how fresh produce is considered healthier, the same holds true for skincare.

Mini-fridges for skincare collections have become popular because they help maintain the freshness and efficacy of skincare products, and Wild Ice understands the importance of freshness in skincare preservation.

Pure and Safe Formulas

Ingredients in skincare products can break down over time, losing their potency and forming unintended compounds, including harmful sensitizers.

A formula that is not chilled may not stay pure for long, as breakdown and unintended compound formation can occur.
Wild Ice skin care class
Mila, the owner/founder and creator of all of the Wild Ice products leads this amazing 90 minute class and gives detailed instruction on product usage and Guasha stone techniques. She welcomes any questions and is very knowledgeable of pressure points, muscle tone and lymphatic drainage. I highly recommend this class! The amount of knowledge alone that you leave this class with is well worth the money spent to take it. Not to mention the generous amount of product you go home with makes you feel like a queen!! I've been a faithful user of Wild Ice for over 2 years now. My mother and daughters are customers now too!
Such a great class!
This class was such a great experience. Mila explains how the muscles in your face work and how to use her products to enhance your face and glow. I had so much fun as this class and I would definitely go to another one!
I trust Wild Ice
The entire Wild Ice line of products are what my skin responds to over any other product I've ever used. I do not hesitate to put any new Wild Ice product on my skin knowing I can trust the ingredients to do the job well. Just smelling the freshness of the products is a daily pleasure. And look no further than Mila's gorgeous skin for inspiration :)
GET YOUR ROUTINE CHEAT-SHEET
Receive a personalized routine, take 10% off your first order, gain access to our Droplets reward program, and offer perks to friends. How's that for chill?
Take The Quiz