Mammoth's Tooth: White Jade Gua Sha Stone
Regular price

Sale price

$45.00
What if we told you you could enjoy a massage and fight the signs of aging all at once? 
Meet Mammoth's Tooth: a soothing addition to your skincare ritual that leads to big results. 
This Goldilocks-sized gua sha stone is the perfect shape for gliding along your face, relieving tense muscles in the process. Using this smooth little guy is one of the best ways to improve your blood flow, promote lymphatic drainage and encourage toxin removal. 
We design everything at Wild Ice with you in mind. So our stone has two different indentations to accommodate a variety of jaw lines. And we've added teeth to make gliding along your hairline a little less snaggly. (Pro tip: you can also use these little teeth to exfoliate, too.) 
Check out the video below for a guide on incorporating this face-sculpting, wrinkle-reducing tool into your routine, then grab one for yourself. We can't wait to see your results!
Skin Type

Oily
Combination
Dry
Normal
Sensitive
Skin Concerns

Acne & Blemishes
Dark Spots
Dryness
Wrinkles
Redness
Share
15 Minute Full Gua Sha Face Massage
The Best Way to Treat Yourself
Natural Ingredients

Fresh, cold-preserved natural ingredients, free from synthetic or harsh chemicals.

Efficacy

Carefully formulated for optimal results, ensuring their efficacy and effectiveness.

Sustainability

Custom glass and wood packaging, reducing environmental impact.

Money-Back Guarantee

Test it for 30 days, if you don't see any results, you get your money back.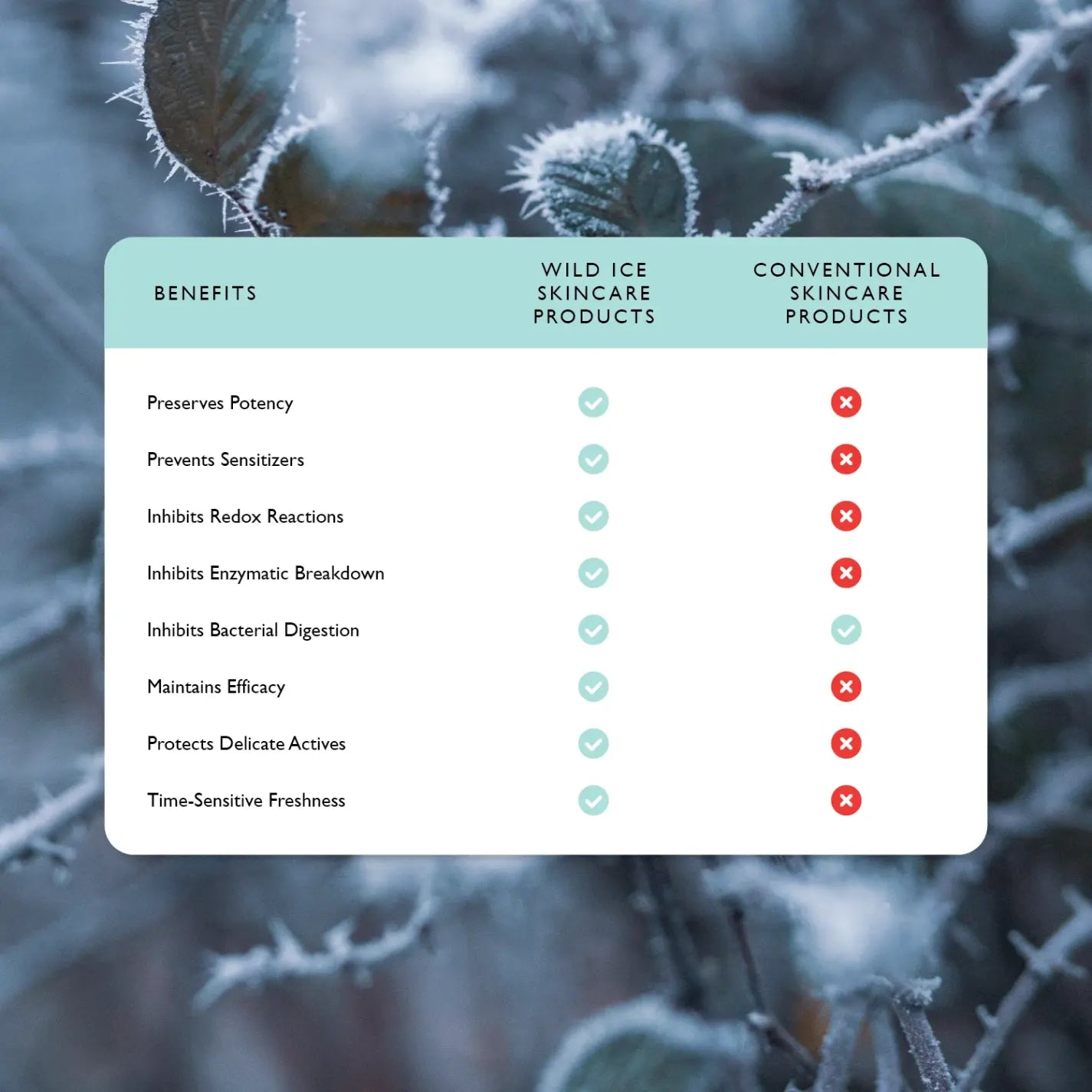 Better Than Any Other
✓ Fresh, cold-preserved natural ingredients
✓ Carefully formulated for optimal results
✓ High-quality products with sustainable production methods
✓ Utilizes cutting-edge cold preservation concept
Wild Ice Skincare Success Stories
Discover the amazing results achieved by real people who have used Wild Ice skincare products
Why we chill ✼
Preserve Potency

Chilling inhibits all three types of breakdown - Redox Reactions, Enzymatic Activity, and Bacterial Digestion.

This ensures that your skincare products stay potent and effective until the moment of sale, maintaining their efficacy over time.

Freshness Matters

Just like how fresh produce is considered healthier, the same holds true for skincare.

Mini-fridges for skincare collections have become popular because they help maintain the freshness and efficacy of skincare products, and Wild Ice understands the importance of freshness in skincare preservation.

Pure and Safe Formulas

Ingredients in skincare products can break down over time, losing their potency and forming unintended compounds, including harmful sensitizers.

A formula that is not chilled may not stay pure for long, as breakdown and unintended compound formation can occur.
FAQs
Do your products contain any hidden ingredients?
Do I need a cosmetics mini-fridge?
Should I chill my Wild Ice products?
Do you test any of your products on animals?
Are your products vegan?
Great product!
I love this Gua Sha. Not only does the material feel high quality, but I love all of the different shapes and textures. It allows me to really focus on different parts of my face. I pair it with Cryo-C in the mornings when I am at my puffiness and I immediately notice a difference when I am done, especially around my eyes. I love Wild Ice products!
Lovvvvveee It!
LOVVVEEEE IT! I feel immediately lifted as soon as I finish using it, and it is a wonderful face massage. I feel like I have treated myself, every time I use it.
Mammoth's Tooth
This is a high quality product! Love it and plan to use it more frequently! Need to watch more of Mila's awesome videos to make sure I am doing everything correctly! Thanks for making amazing products for beautiful skin!
I really like this tool, I see a difference in my complexion.
Gua Sha
I'm loving this gua sha! It's comfortable in my hand, has multiple types of surfaces for carving out your face, and the serrated edges don't pull my eyebrows or snag my hairline. It's wonderful!
Love it!
The White Jade Gua Sha Stone is a beautiful stone and works great for facial-massage for my face and neck.
GET YOUR ROUTINE CHEAT-SHEET
Receive a personalized routine, take 10% off your first order, gain access to our Droplets reward program, and offer perks to friends. How's that for chill.
Take The Quiz