Wintry Fix: Sugar and Strawberry Skin Softening Scrub
Regular price

Sale price

$28.00
Smooth skin is never out of season. That's why we created Wintry Fix: to remedy dry, patchy skin as the temperatures drop and to polish tan legs when the sunshine returns.
This indulgent moisturizing scrub uses white sugar and jojoba beads to gently exfoliate your skin, then nourishes it with ultra-hydrating shea butter, grapefruit oil and jojoba oil.
We're not into sticky residue, so we've formulated Wintry Fix to leave your skin feeling velvety, clean, and kissed with the scent of fresh strawberries.
Dispensing type: Jar
Net Contents: 100 ml; 3.4 fl oz
Ingredient Highlights
Directions

Use weekly; more often for body areas suffering from flaking, acne, or dryness.

Simply wet skin first, then apply using small, firm circular motions until sugar melts fully. Wash with warm water, then rinse with cool water to close pores.

And while our beloved body scrub is designed to give you your softest skin ever, we also love to use it on our lips!

Simply apply a small amount to your lips, scrub gently, then rinse and pat dry. You're ready for smooth application of your favorite lip color.

You can also use Wintry Fix as the perfect pre-shave prep. Exfoliating your legs before shaving can prevent pesky ingrown hairs.

For best results, follow with Berry Boreal Bod.
Full Composition

Key ingredients:

Jojoba beads naturally exfoliate the skin without tearing it, while simultaneously providing deep hydration.

Vitamin E is loaded with antioxidants that protect your skin from damage and premature aging.

Strawberry extract softens skin while reducing the appearance of dark spots and leaves you smelling delicious.

Ingredients: Sugar (Sucrose), Coconut (Cocos Nucifera) Oil*, Jojoba (Simmondsia Chinensis) Oil*, Shea Nut (Butyrospermum Parkii) Butter*, Jojoba (Simmondsia Chinensis) Wax, Strawberry (Fragaria Vesca) Fruit Extract, Cetearyl Olivate, Vitamin E (non-GMO), Sweet Orange (Citrus x Sinensis) Oil*, Sorbitan Olivate, Ultramarine Pink

*=Organic Ingredient
Skin Type
Skin Concerns

Dryness
Wrinkles
Acne & Blemishes
Dark Spots
Share
The World's Only Cold-Preserved Skincare
Potent

Better preserved means the active ingredients you buy stay potent.

Healthy

Delicate nutrients remain intact, just like healthy produce in your fridge.

Clean

Ingredients don't react with each other so sensitizers can't form.

Gentle

Chemical preservatives are left out of the bottle, and off of your skin.
The Three Types of Breakdown
Cold vs Chemicals
Chemical preservatives inhibit bacterial digestion, but that's only one cause of product degradation.
Products change and lose efficacy due to redox reactions (electrons moving between atoms) as well as plant enzymes present in natural products.
Cold inhibits all three types of breakdown.
Together let's stop putting chemical preservatives on our skin, and start applying freshly cold-preserved skincare.
LEARN MORE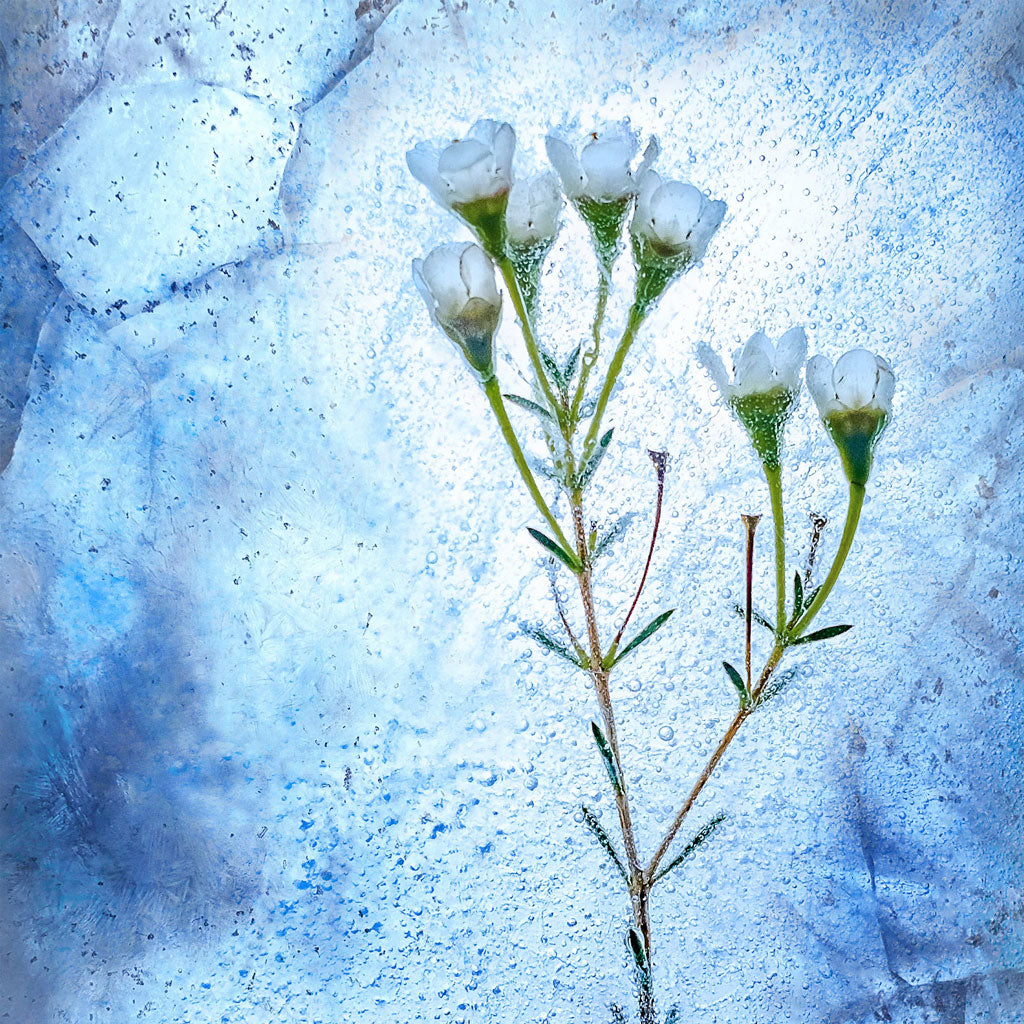 Customers Often ask
"Why Don't Other Brands Chill Too?"
"Cold seems like common sense, especially as clean & natural skincare has gone mainstream. So why aren't other larger brands doing what you do?"
It's a question we get all the time; the short answer is because it's hard.
Brands want to go into retail chains, they want to be distributed by major logistics companies, and they want to outsource production to one of a few big production houses.
None of these are equipped to offer cold preservation for ingredients and products. And because they can't, they don't.
Want the more detailed answer? It's the first one on our FAQ page.
Read the FAQ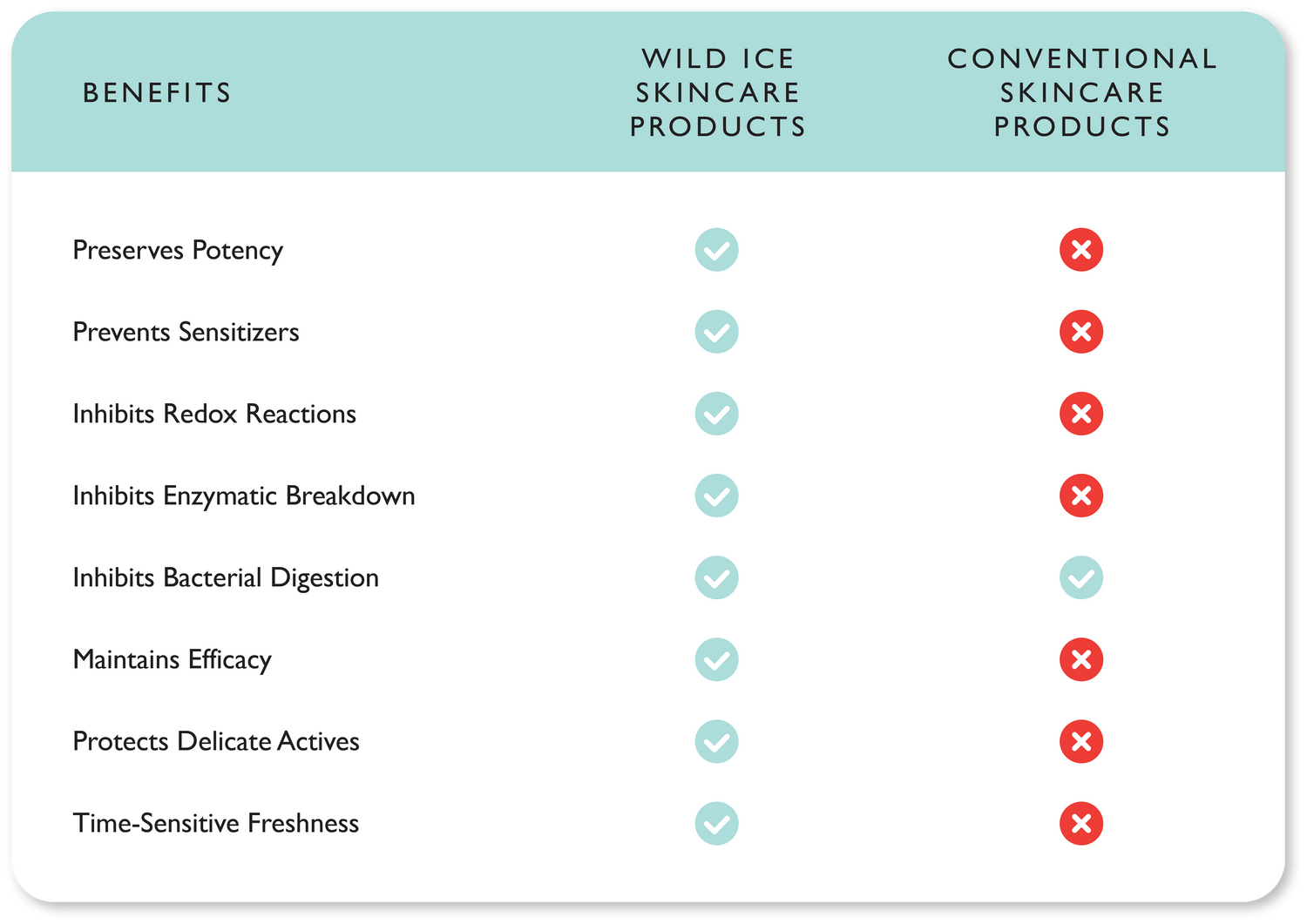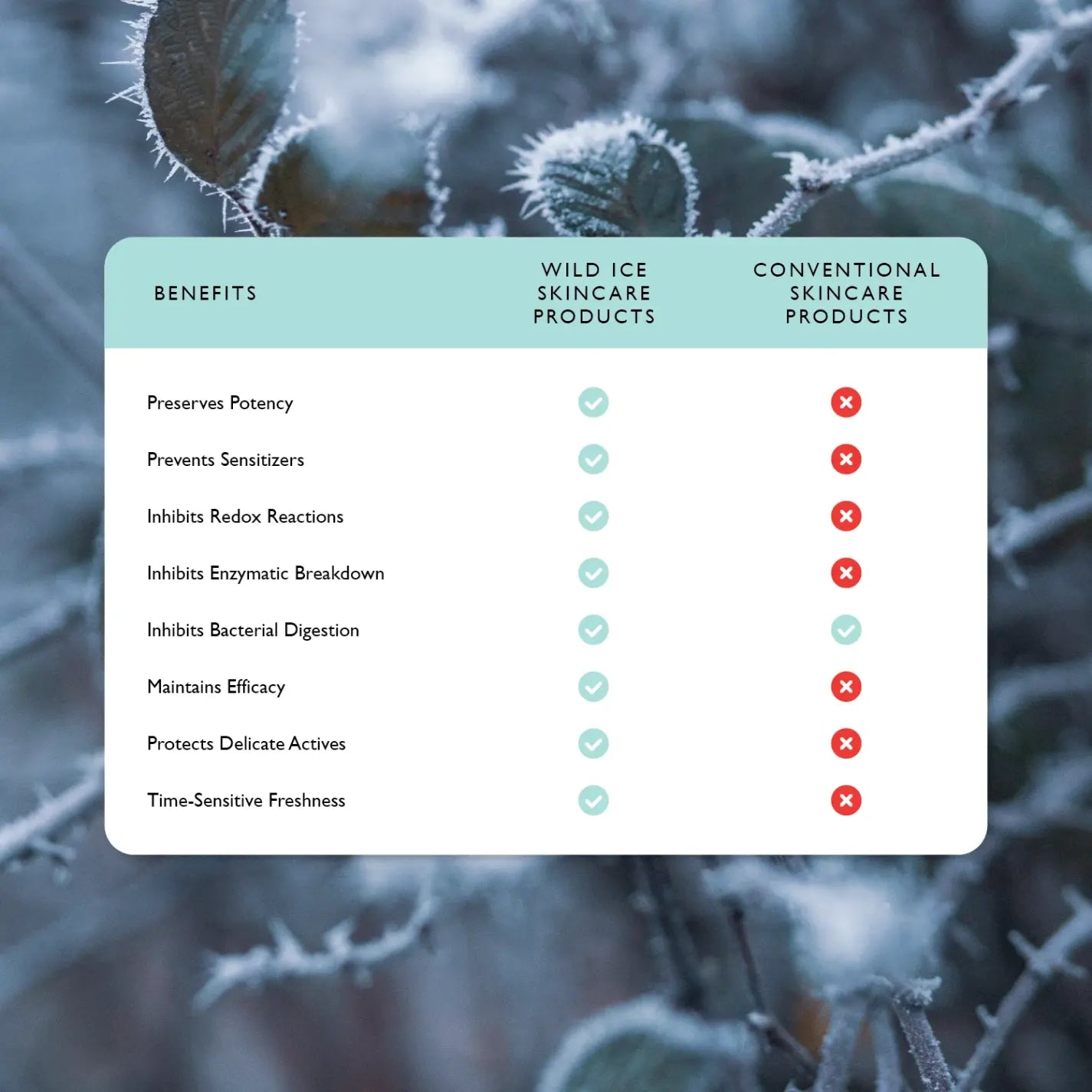 Cold Seems like common sense because
Cold Is Common Sense
✓ Products are fresh & naturally preserved
✓ Delicate actives remain intact & effective
✓ Chemical preservatives are left off your skin
✓ Antioxidants are applied before their oxidation
✓ You get the pristine formula you paid for
Wild Ice Skincare Success Stories
Discover the amazing results achieved by real people who have used Wild Ice skincare products
Why we chill ✼
Preserve Potency

Chilling inhibits all three types of breakdown - Redox Reactions, Enzymatic Activity, and Bacterial Digestion.

This ensures that your skincare products stay potent and effective until the moment of sale, maintaining their efficacy over time.

Freshness Matters

Just like how fresh produce is considered healthier, the same holds true for skincare.

Mini-fridges for skincare collections have become popular because they help maintain the freshness and efficacy of skincare products, and Wild Ice understands the importance of freshness in skincare preservation.

Pure and Safe Formulas

Ingredients in skincare products can break down over time, losing their potency and forming unintended compounds, including harmful sensitizers.

A formula that is not chilled may not stay pure for long, as breakdown and unintended compound formation can occur.
FAQs
Can I use Wintry Fix on my face?
How do I apply Wintry Fix?
Can I use Wintry Fix daily?
Do I need to keep Wintry Fix cold?
Do I need a cosmetics mini-fridge?
Are your products vegan?
Do you test any of your products on animals?
Do your products contain any hidden ingredients?
Skin Changing!
I wear sunscreen on my face, neck, and on my tattoos. Over time, it starts to build up even if I wash it off at the end of every day. This scrub helps exfoliate away any issues - it immediately moisturizes and keeps the skin feeling soothed from the oils. I like to soften the sugar granules with warm water to use on my face and my tattoos for a gentler scrub, and the regular granule size is great for the rest of the body! I also stored this in the fridge one time because I thought the bathroom steam would heat up the sugar and melt it, but it solidified in the fridge from the oils/butters. So just store it in your room or similar. :-)
Best scrub
Love everything about this skin line. This scrub leaves my skin smooth, soft and a nice glow. And the smell of strawberries is just enough.
Strawberry fun
This scrub is a great in shower moisturizer. The smell of fresh Strawberries is just as the name says. The scent is very delicate once rinsed and I really appreciate that.
So great
Best smelling sugar scrub ever! Softest skin after you use it will definitely be purchasing again!
Strawberry scrub
This scrub smells great and leaves my skin very soft.
Spectacular product - leaves your face so soft with a nice glow. I definitely will reorder.
Dear Cindy,
Thank you so much for your feedback. We are thrilled to know you are enjoying Wintry Fix; however, it is a body polish rather than a facial scrub. For face, we have a special alpha hydroxy acid mask called Yuki-Onna facial. You can use it as a mask or as a scrub
Smells Great and Feels Great!
Wintery Fix is absolutely great! It's helped made my hands and arms a lot softer during this winter, and it smells just as great as it feels on your skin. It makes a great gift for someone with dry skin this winter and next winter. Highly recommend this product! 👌
Wintery fix strawberry sugar scrub
The wintery fix scrub is amazing! Like all of the products from the wild ice line, it does not disappoint. The scrub feels so great as it exfoliates and then slowly disolves leaving your skin moisturized with a soothing combination of natural oils. It absorbs well but leaves dry skin soft and supple. This is my second favorite product next to the face serum that I have reordered a half a dozen times already. I will be ordering more of the wintery fix scrub . It's amazing!!
Wonderful polish
I love the smell, texture, and more importantly the softness my skin feels like after using. It is great to use on elbows and feet! Thank you for sharing this product with us!
Love This Body Polish ❤
I absolutely love this body polish, so much that I buy it as gifts for my family and friends. It leaves my skin feeling soft and not dried out. I'm very sensitive to smells and I love this! Thank you Mila for creating this product.
GET YOUR ROUTINE CHEAT-SHEET
Receive a personalized routine, take 10% off your first order, gain access to our Droplets reward program, and offer perks to friends. How's that for chill?
Take The Quiz