Memoir of a Frozen Flower Purely Clean Perfume
Regular price

Sale price

$55.00
When you love your body, your body loves you back. It's why you opt for healthy foods and natural skincare. There's nothing like nourishing yourself inside and out with real, clean ingredients.

But what about the perfume you spritz on your wrist before you head out the door? The grim reality is most scents are riddled with formaldehyde, parabens and phthalates. 

These ingredients accumulate in your body, leading to hormone disruption and other health concerns. 

You deserve a perfume that fits into your clean beauty regimen. So we crafted an enchanting, long-lasting scent that doesn't include toxic additives. 

Introducing: Memoir of a Frozen Flower, inspired by the fresh greenery that appears as spring melts away winter's snow. 

Rich, woody sandalwood mingles with sweetbitter yuzu and fresh citrus for a scent that's both grounding and invigorating. It's complex, warm, and refreshing— just like you.

Top Notes: Calabrian Bergamot (Italian), Lime, Mountain Water, Lily of the Valley

Middle Notes: Asian Bamboo, Yuzu, Mandarin, Moroccan Grapefruit

Base Notes: Sandalwood, White Musk, Cedar

Directions

Apply to clean and moisturized skin by spritzing directly onto a pulse point and dabbing to spread to other pulse points as desired.

Pulse points include the inside of your wrists, sides of your neck, inner elbows, below your belly button, behind your ear lobes, and the back of your knees.

Avoid rubbing into skin as this will diminish top notes.

For a slightly stronger scent, spritz the air and then walk into the mist after applying to pulse points.
Full Composition

Ingredients: Water, Organic Alcohol, A Proprietary
Blend of Natural Fragrances.

Formulated without formaldehydes, parabens,
or phthalates. Hypoallergenic.
Skin Type

Oily
Combination
Dry
Normal
Sensitive
Share
The World's Only Cold-Preserved Skincare
Potent

Better preserved means the active ingredients you buy stay potent.

Healthy

Delicate nutrients remain intact, just like healthy produce in your fridge.

Clean

Ingredients don't react with each other so sensitizers can't form.

Gentle

Chemical preservatives are left out of the bottle, and off of your skin.
The Three Types of Breakdown
Cold vs Chemicals
Chemical preservatives inhibit bacterial digestion, but that's only one cause of product degradation.
Products change and lose efficacy due to redox reactions (electrons moving between atoms) as well as plant enzymes present in natural products.
Cold inhibits all three types of breakdown.
Together let's stop putting chemical preservatives on our skin, and start applying freshly cold-preserved skincare.
LEARN MORE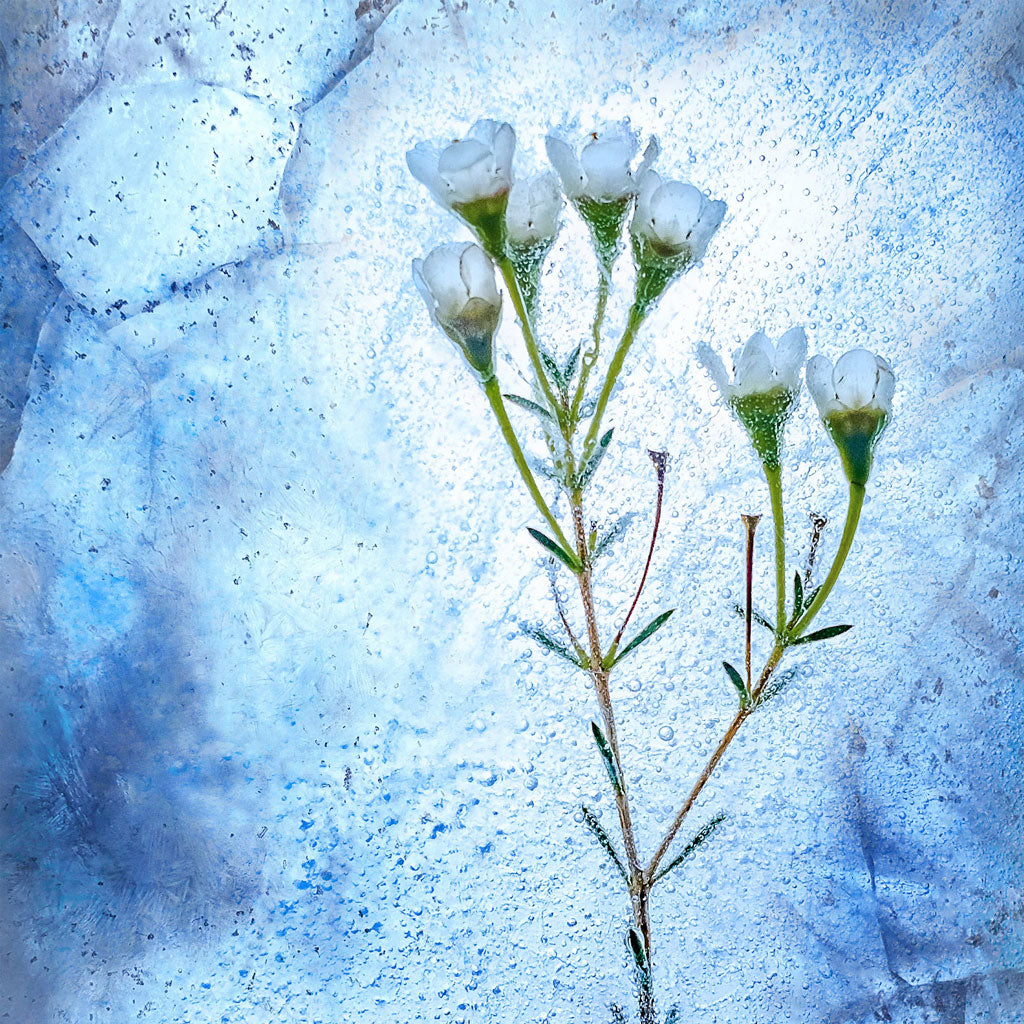 Customers Often ask
"Why Don't Other Brands Chill Too?"
"Cold seems like common sense, especially as clean & natural skincare has gone mainstream. So why aren't other larger brands doing what you do?"
It's a question we get all the time; the short answer is because it's hard.
Brands want to go into retail chains, they want to be distributed by major logistics companies, and they want to outsource production to one of a few big production houses.
None of these are equipped to offer cold preservation for ingredients and products. And because they can't, they don't.
Want the more detailed answer? It's the first one on our FAQ page.
Read the FAQ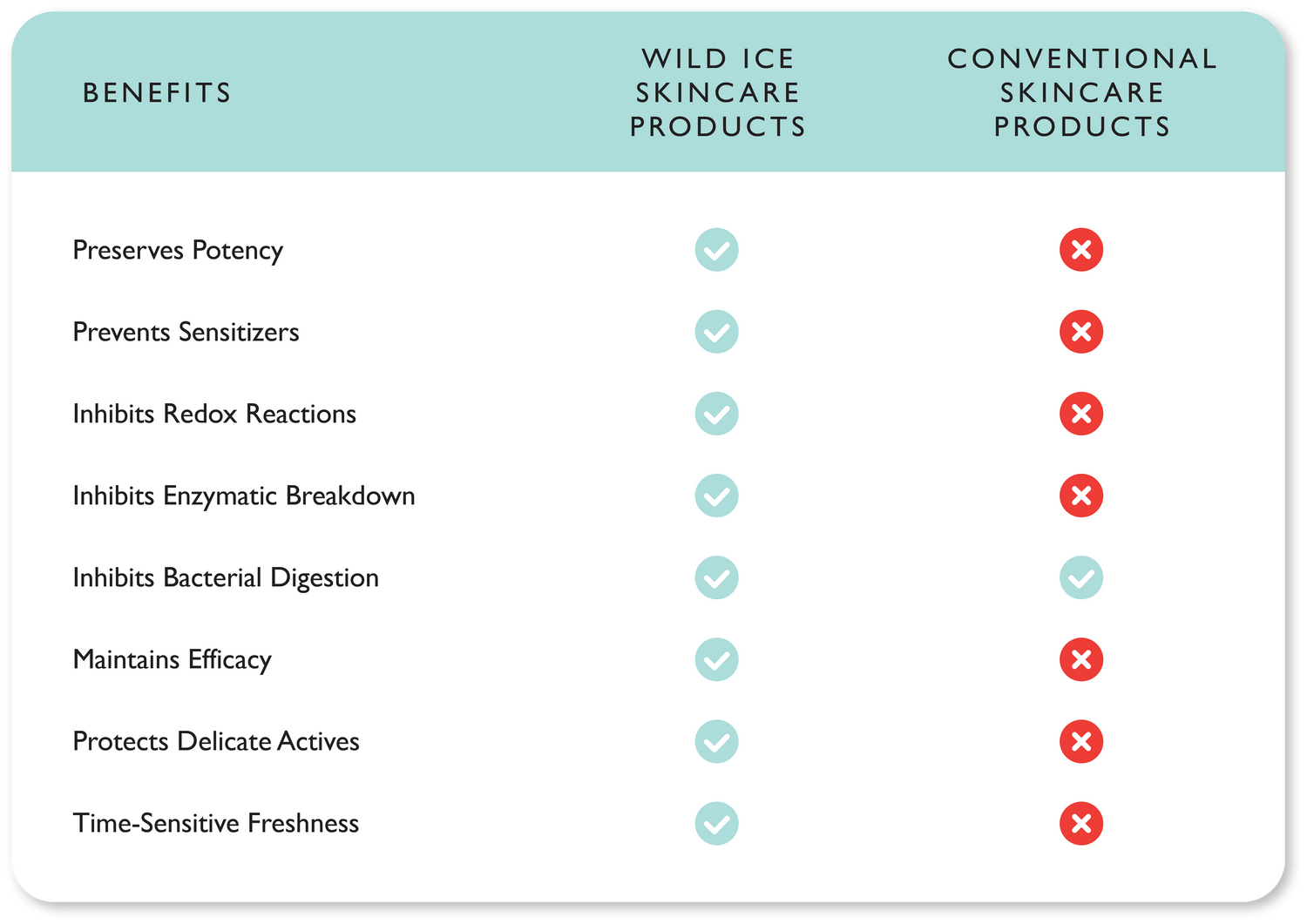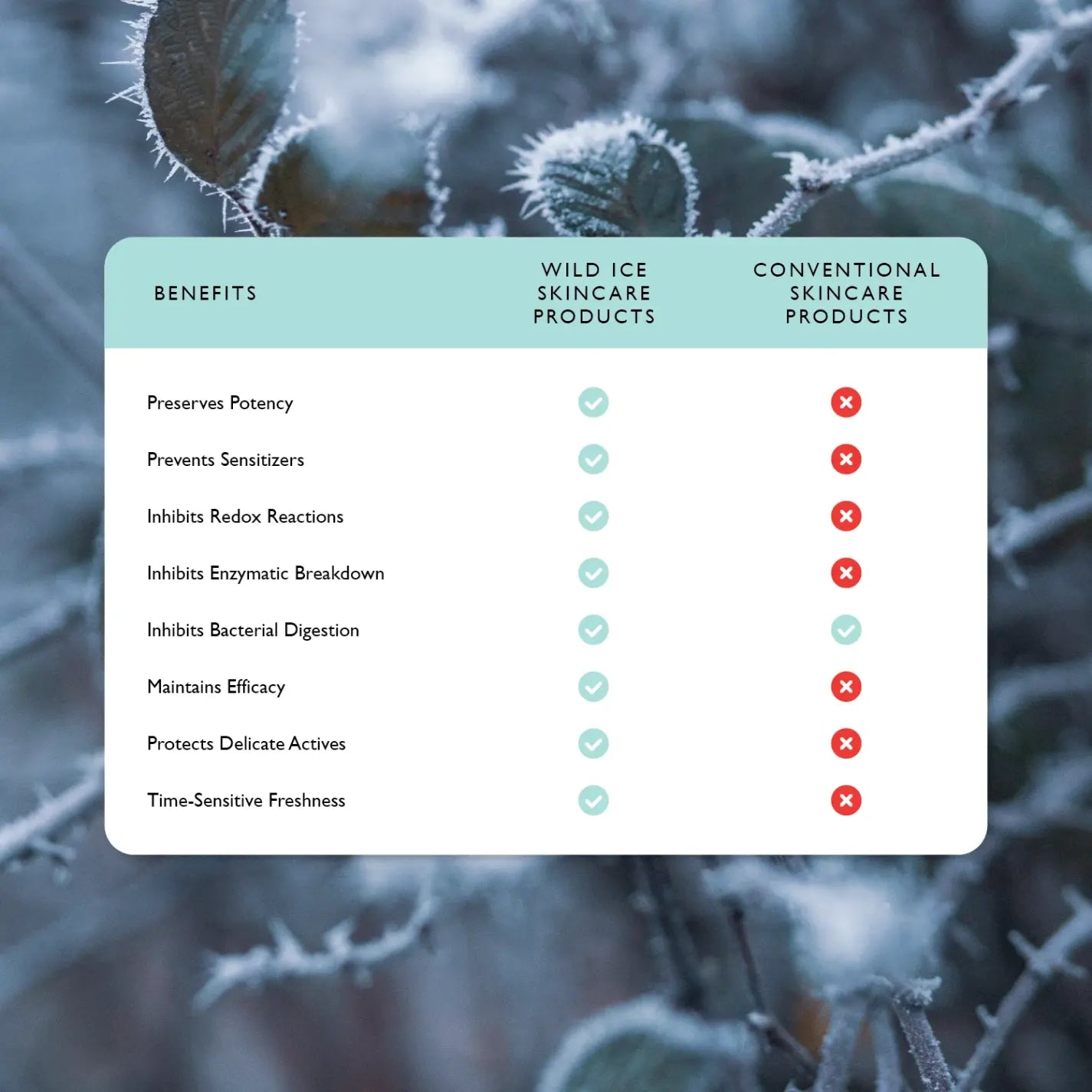 Cold Seems like common sense because
Cold Is Common Sense
✓ Products are fresh & naturally preserved
✓ Delicate actives remain intact & effective
✓ Chemical preservatives are left off your skin
✓ Antioxidants are applied before their oxidation
✓ You get the pristine formula you paid for
Wild Ice Skincare Success Stories
Discover the amazing results achieved by real people who have used Wild Ice skincare products
Why we chill ✼
Preserve Potency

Chilling inhibits all three types of breakdown - Redox Reactions, Enzymatic Activity, and Bacterial Digestion.

This ensures that your skincare products stay potent and effective until the moment of sale, maintaining their efficacy over time.

Freshness Matters

Just like how fresh produce is considered healthier, the same holds true for skincare.

Mini-fridges for skincare collections have become popular because they help maintain the freshness and efficacy of skincare products, and Wild Ice understands the importance of freshness in skincare preservation.

Pure and Safe Formulas

Ingredients in skincare products can break down over time, losing their potency and forming unintended compounds, including harmful sensitizers.

A formula that is not chilled may not stay pure for long, as breakdown and unintended compound formation can occur.
FAQs
Can I combine Memoir of a Frozen Flower perfume with other Wild Ice products?
Do your products contain any hidden ingredients?
Do I need a cosmetics mini-fridge?
Should I chill my Wild Ice products?
Do you test any of your products on animals?
Are your products vegan?
A Scent for All Seasons
I don't wear a lot of perfumes or fragrance sprays, as I'm sensitive to many due to the chemicals and additives they sometimes contain. But this clean fragrance, Memoir of a Frozen Flower, is not at all irritating even when sprayed directly on delicate skin. The scent is complex (lime, cedar, and bamboo is a perfect blend with lily of the valley) and though a somewhat light scent overall, it has good staying power and a dry-down that remains true to the quality ingredients. The top, middle and base notes, which includes wood and green scents as well as citrus, are perfectly balanced - feminine enough for a night out but subtle enough to wear in the workplace.
GET YOUR ROUTINE CHEAT-SHEET
Receive a personalized routine, take 10% off your first order, gain access to our Droplets reward program, and offer perks to friends. How's that for chill?
Take The Quiz