D.B.T. Baba Yaga: Siberian Cold Cream Therapy For Face, Neck, and Eyes
Regular price

Sale price

$58.00
Don't Become the Baba Yaga!
The Baba Yaga is a Slavic, mythical creature that looks like a haggard old lady. If you'd rather not turn into her, grab a bottle of D.B.T. Baba Yaga. This firming and brightening cream helps you bid wrinkles a not-so-fond farewell.
Formulated with an anti-aging ceramide complex, smoothing chamomile and a collagen-boosting peptide blend, D.B.T. Baba Yaga is your secret weapon to combat signs of aging, even out your complexion, and shrink your pores.
Dispensing type: Pump Top
Net Contents: 50 ml; 1.7 fl oz
Ingredient Highlights
Directions

D.B.T. Baba Yaga is the last step in your skincare routine.

Apply one to two pumps to your skin morning and night after you've finished nourishing your skin with Cryo-C.

Store cool and out of direct sunlight. Avoid contact with eyes.
Full Composition

Ingredients: Rose (Rosa Damascena) Distillate*, Abyssinian (Crambe Abyssinica) Oil, Vitamin B3 (Niacinamide), N-Acetyl Glucosamine, Distilled Water (Aqua), Sunflower (Helianthus Annuus) Seed Oil, German Chamomile (Matricaria Recutita) Flower Extract*, Vegetable Glycerin (Glycerin)*, Murumuru (Astrocaryum Murumuru) Seed Butter*, Ceramide NP, Ceramide AP, Ceramide EOP, Vitamin E (non-GMO), Palmitoyl Dipeptide-5 Diaminobutyloyl Hydroxythreonine, Palmitoyl Dipeptide-6 Diaminohydroxybutyrate, Phytosphingosine, Cholesterol, Shea (Butyrospermum Parkii) Butter*, Sodium Lauroyl Lactylate, Polyacrylic Acid, White Willow (S. Alba) Bark Ferment Filtrate, Cetearyl Olivate, Sorbitan Olivate, Dipalmitoyl Hydroxyproline, Leuconostoc, Aloe (Aloe Barbadensis) Leaf Extract, Rowan (Sorbus Aucuparia) Fruit Ferment Filtrate, Jasmine (Jasminum Officinale) Oil, Benzyl Alcohol, Salicylic Acid, Sorbic Acid, Cetearyl Alcohol, Lactic Acid, Persian Lilac (Melia Azadirachta) Leaf Extract, Persian Lilac (Melia Azadirachta) Flower Extract, Amino Esters-1 (ex Mimosa Tenuiflora), Ivy Gourd (Coccinia Indica) Fruit Extract, Eggplant (Solanum Melongena) Fruit Extract, Aloe (Aloe Barbadensis) Flower Extract, Holy Basil (Ocimum Sanctum) Leaf Extract, Turmeric (Curcuma Longa) Root Extract, Sodium Phytate, Red Seaweed (Corallina Officinalis) Extract, Xanthan Gum

*=Organic Ingredient †=Wild-Crafted Ingredient
Skin Type
Skin Concerns

Dark Spots
Dryness
Wrinkles
Share
The World's Only Cold-Preserved Skincare
Potent

Better preserved means the active ingredients you buy stay potent.

Healthy

Delicate nutrients remain intact, just like healthy produce in your fridge.

Clean

Ingredients don't react with each other so sensitizers can't form.

Gentle

Chemical preservatives are left out of the bottle, and off of your skin.
The Three Types of Breakdown
Cold vs Chemicals
Chemical preservatives inhibit bacterial digestion, but that's only one cause of product degradation.
Products change and lose efficacy due to redox reactions (electrons moving between atoms) as well as plant enzymes present in natural products.
Cold inhibits all three types of breakdown.
Together let's stop putting chemical preservatives on our skin, and start applying freshly cold-preserved skincare.
LEARN MORE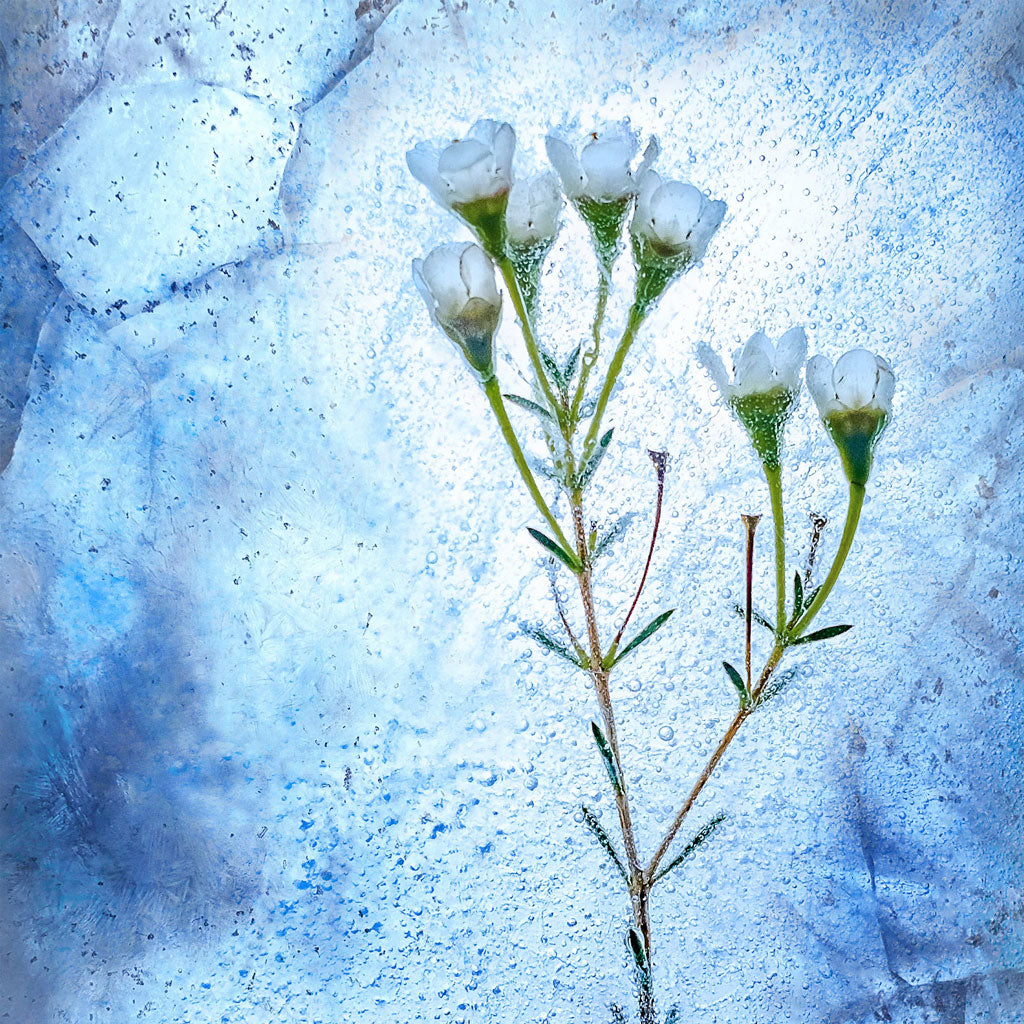 Customers Often ask
"Why Don't Other Brands Chill Too?"
"Cold seems like common sense, especially as clean & natural skincare has gone mainstream. So why aren't other larger brands doing what you do?"
It's a question we get all the time; the short answer is because it's hard.
Brands want to go into retail chains, they want to be distributed by major logistics companies, and they want to outsource production to one of a few big production houses.
None of these are equipped to offer cold preservation for ingredients and products. And because they can't, they don't.
Want the more detailed answer? It's the first one on our FAQ page.
Read the FAQ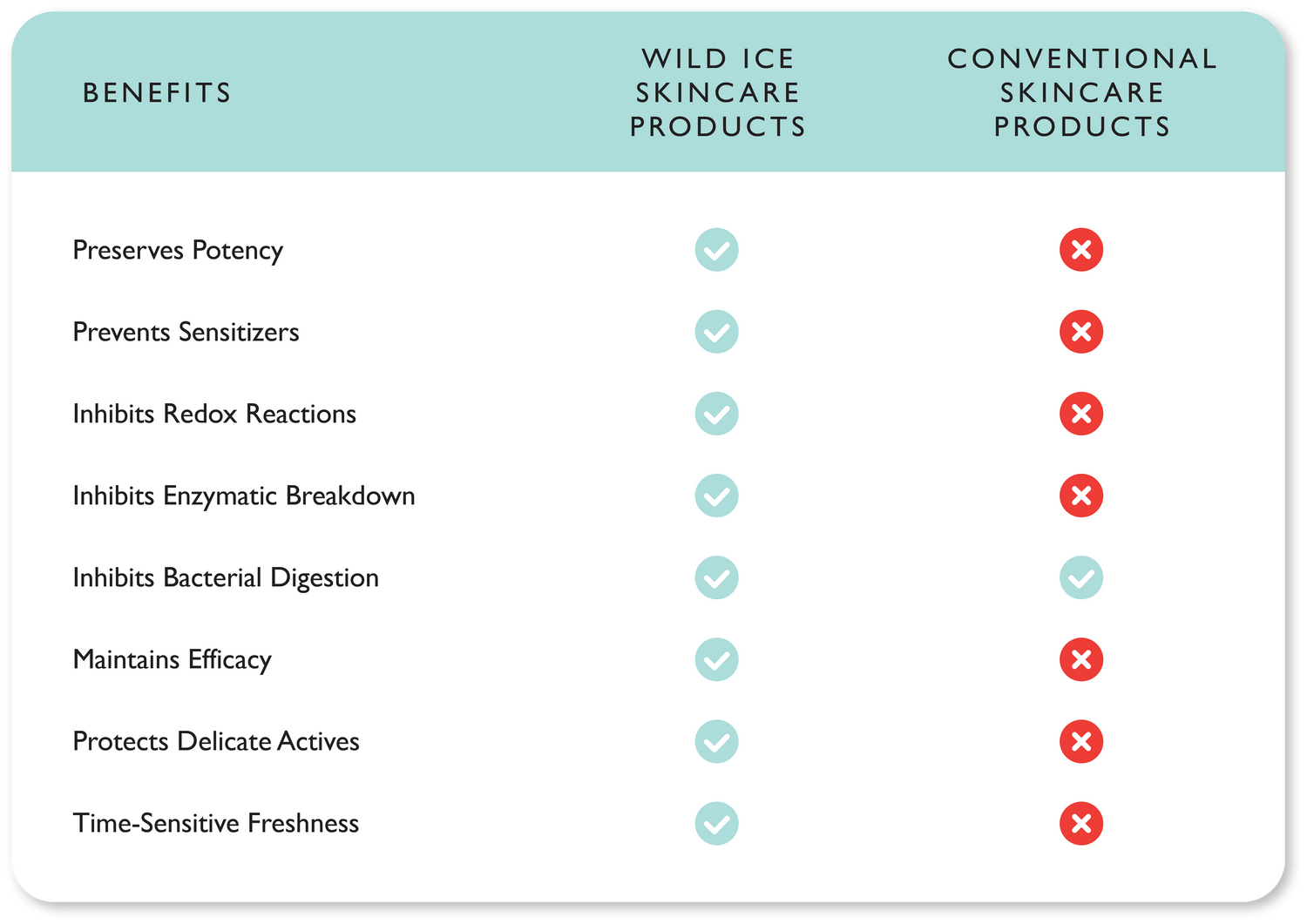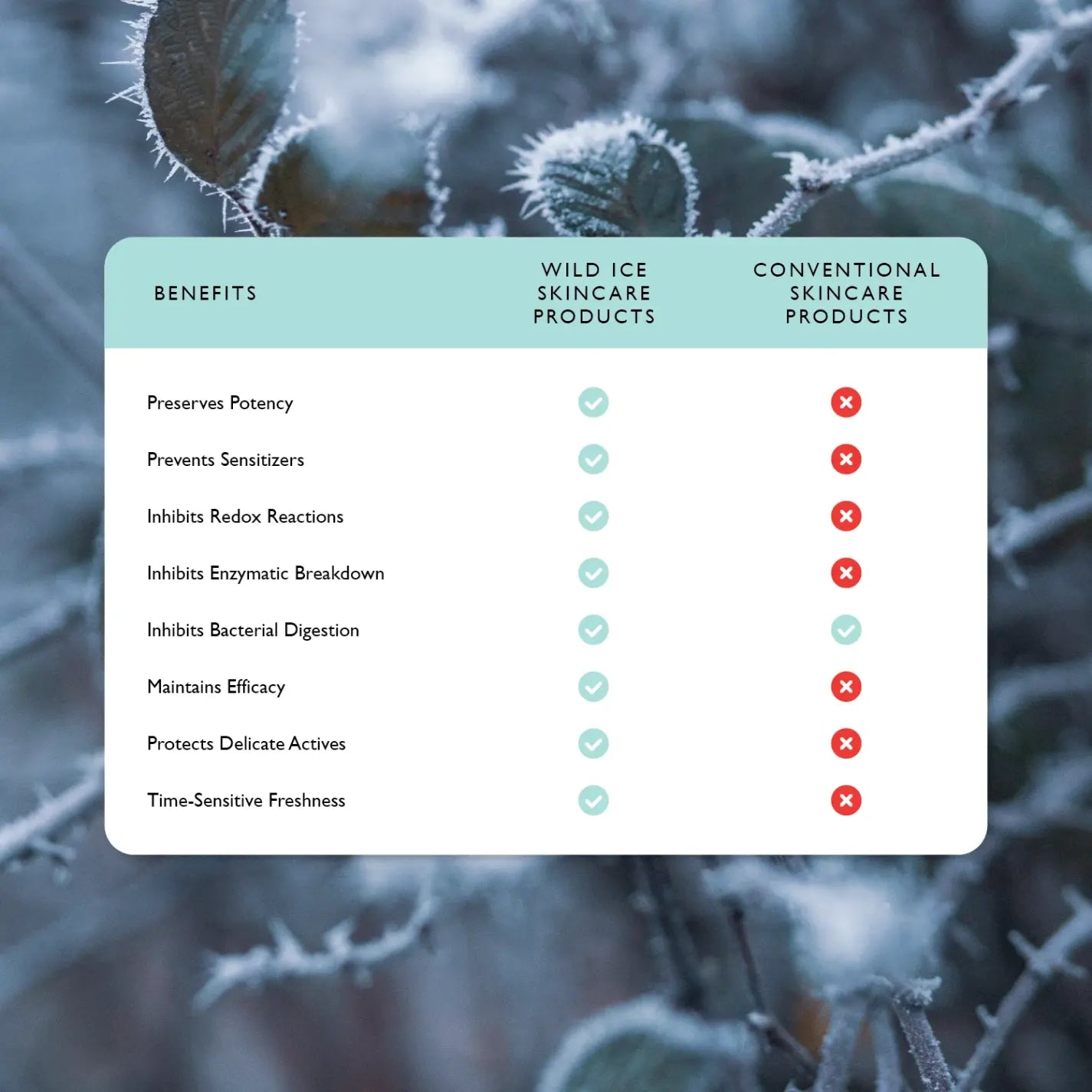 Cold Seems like common sense because
Cold Is Common Sense
✓ Products are fresh & naturally preserved
✓ Delicate actives remain intact & effective
✓ Chemical preservatives are left off your skin
✓ Antioxidants are applied before their oxidation
✓ You get the pristine formula you paid for
Wild Ice Skincare Success Stories
Discover the amazing results achieved by real people who have used Wild Ice skincare products
Why we chill ✼
Preserve Potency

Chilling inhibits all three types of breakdown - Redox Reactions, Enzymatic Activity, and Bacterial Digestion.

This ensures that your skincare products stay potent and effective until the moment of sale, maintaining their efficacy over time.

Freshness Matters

Just like how fresh produce is considered healthier, the same holds true for skincare.

Mini-fridges for skincare collections have become popular because they help maintain the freshness and efficacy of skincare products, and Wild Ice understands the importance of freshness in skincare preservation.

Pure and Safe Formulas

Ingredients in skincare products can break down over time, losing their potency and forming unintended compounds, including harmful sensitizers.

A formula that is not chilled may not stay pure for long, as breakdown and unintended compound formation can occur.
FAQs
What are the ceramides in D.B.T. Baba Yaga?
What exactly is niacinamide? Will it help with my sun spots?
Where does your rose water come from?
Can I use D.B.T. Baba Yaga around my eyes?
Do I need a cosmetics mini-fridge?
Do your products contain any hidden ingredients?
Do you test any of your products on animals?
Should I chill my Wild Ice products?
Are your products vegan?
Silk in a bottle
This makes your face so silky soft. The benefits of what it does for my face. The moisturizer is amazing! I almost feels that it turns back time. I love it!
Love this moisturizer
I love this product paired with the cryo-c. It leaves my skin perfectly Dewey without being heavy. It's such a light cream and a little goes a long way!
Love the product I have many compliments on my skin
I am a skin care fanatic and have have tried thousands of different products. Wild Ice is by far one of the best. I love that it's completely natural and It truly hydrates your skin. My red, uneven skin tone has subsided and I'm living my skin again! Thank you Wild Ice!
Great!
I am in my 50's and have tried many facial products in my life. I really like this one for its clean feel, nice natural fragrance and the consistency is light and absorbs well. It's an adorable shade of pink and is a pleasure to use!
Baba Yaga
This cold cream is amazing!! I can actually feel is soothing my dry skin as soon as I put it on! 10/10 from me!!
So light!
I love this product. It's so light and feels great but still leaves skin feeling hydrated. And it smells great with out feeling perfume like.
Perfect for all types of skin!
I have used this product for several years and now my husband uses it after seeing the difference in my skin!!
DBT baba yaga
I have been using this along with the other 3 products for about 2 yrs and at amost 73 still get compliments on my skin and just brag about your products .So glad I found you
So nice and light but very moisturized. Works well the the crying c
GET YOUR ROUTINE CHEAT-SHEET
Receive a personalized routine, take 10% off your first order, gain access to our Droplets reward program, and offer perks to friends. How's that for chill?
Take The Quiz