Rarify Refining Acne Spot Treatment
Regular price

$28.00

Sale price

$28.00
Tell your acne to cool it. Rarify is your all-natural defense against those pesky blemishes that pop up out of nowhere. 

Unlike conventional acne-fighting serums, this one contains zero toxic preservatives or fake fragrances. And it's not going to suck all of the moisture out of your skin, either. 

Instead, Rarify uses a combination of potent, antibacterial botanicals to penetrate and cleanse the skin. It's mildly astringent, flawlessly balanced and a joy to apply.

Dispensing Type: Dropper

Net Contents:  9 ml; .3 fl oz
Ingredient Highlights
Directions

After cleansing your skin, apply a thin layer of Rarify to any blemishes on your face. Pat the area with your fingertips to set.
Full Composition

Ingredients: Black Cumin (Nigella Sativa) Oil*, Andiroba (Carapa Guianensis) Oil*, Pracaxi (Pentaclethra Macroloba) Oil*, Frankincense (Boswellia Carterii) Oil, Lavender (Lavandula Angustifolia) Oil*, Laurel Berry (Laurus Nobilis) Fruit Oil*, Tea Tree (Melaleuca Alternifolia) Oil*, Lemongrass (Cymbopogon Flexuosus) Oil*, Neem (Azadirachta Indica) Oil, Sunflower (Helianthus Annuus) Seed Oil & White Willow (Salix Alba) Bark Ferment Filtrate, White Willow (Salix Alba) Bark Extract, Curcuma Xanthrorrhiza Root Extract*, Blue Tanzy (Tanacetum Annuum) Oil†

*=Organic Ingredient †=Wild-Crafted Ingredient
Skin Type

Oily
Combination
Dry
Normal
Sensitive
Skin Concerns
Share
The World's Only Cold-Preserved Skincare
Potent

Better preserved means the active ingredients you buy stay potent.

Healthy

Delicate nutrients remain intact, just like healthy produce in your fridge.

Clean

Ingredients don't react with each other so sensitizers can't form.

Gentle

Chemical preservatives are left out of the bottle, and off of your skin.
The Three Types of Breakdown
Cold vs Chemicals
Chemical preservatives inhibit bacterial digestion, but that's only one cause of product degradation.
Products change and lose efficacy due to redox reactions (electrons moving between atoms) as well as plant enzymes present in natural products.
Cold inhibits all three types of breakdown.
Together let's stop putting chemical preservatives on our skin, and start applying freshly cold-preserved skincare.
LEARN MORE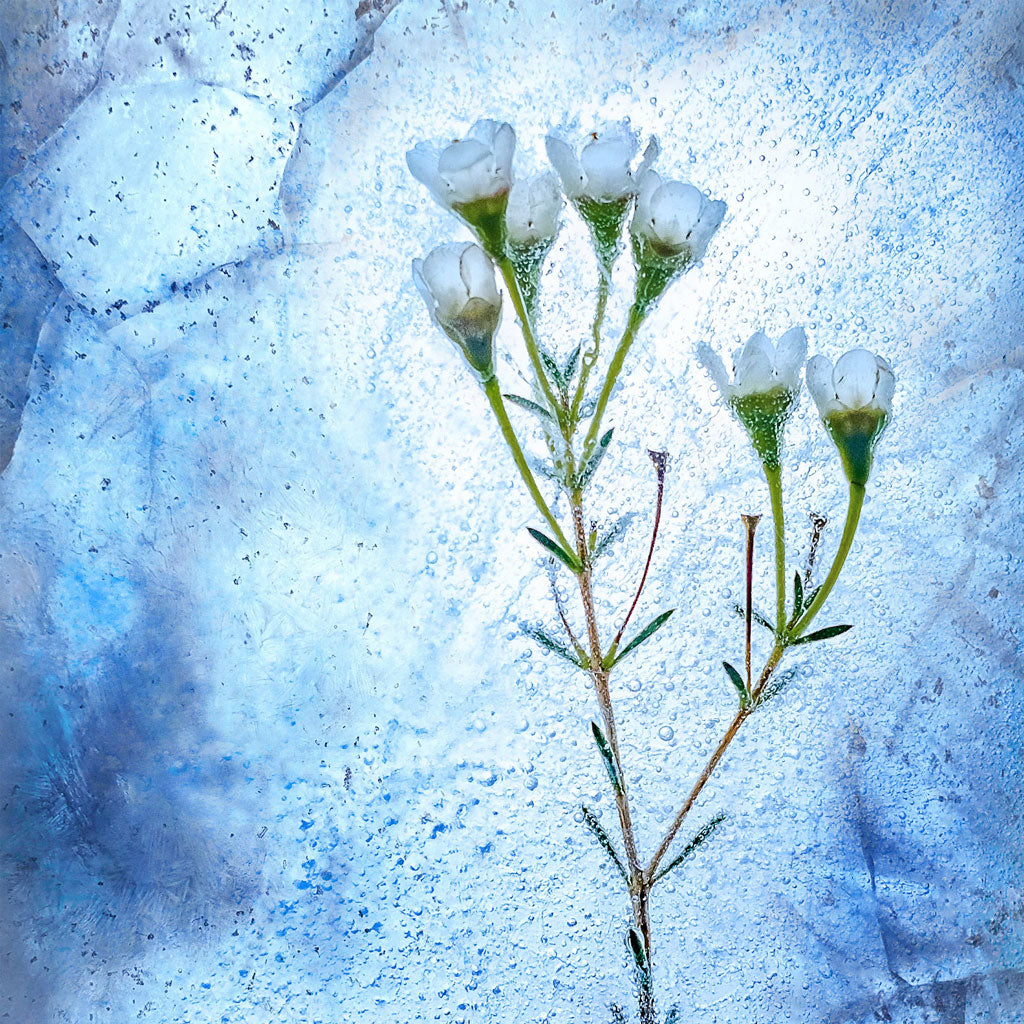 Customers Often ask
"Why Don't Other Brands Chill Too?"
"Cold seems like common sense, especially as clean & natural skincare has gone mainstream. So why aren't other larger brands doing what you do?"
It's a question we get all the time; the short answer is because it's hard.
Brands want to go into retail chains, they want to be distributed by major logistics companies, and they want to outsource production to one of a few big production houses.
None of these are equipped to offer cold preservation for ingredients and products. And because they can't, they don't.
Want the more detailed answer? It's the first one on our FAQ page.
Read the FAQ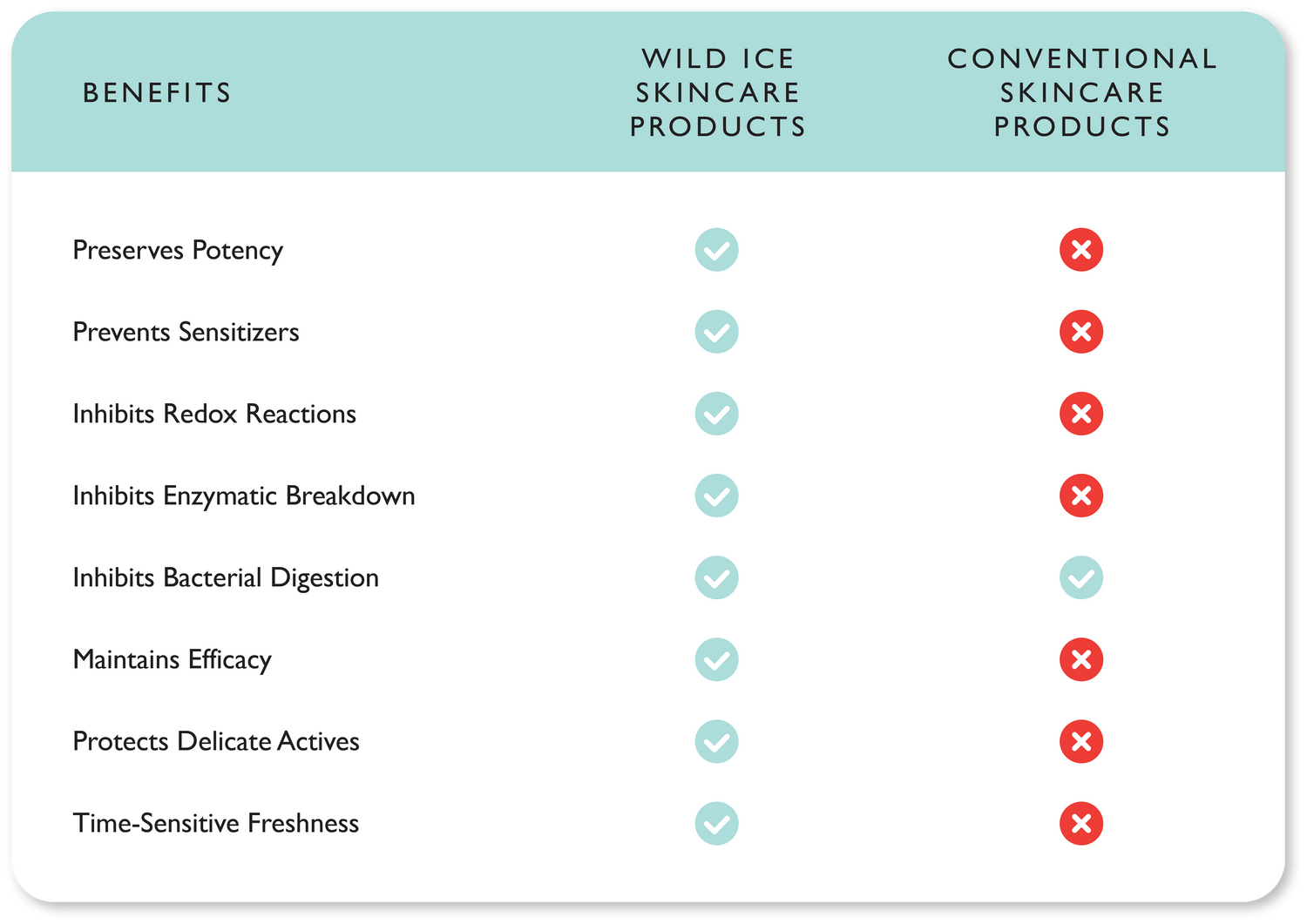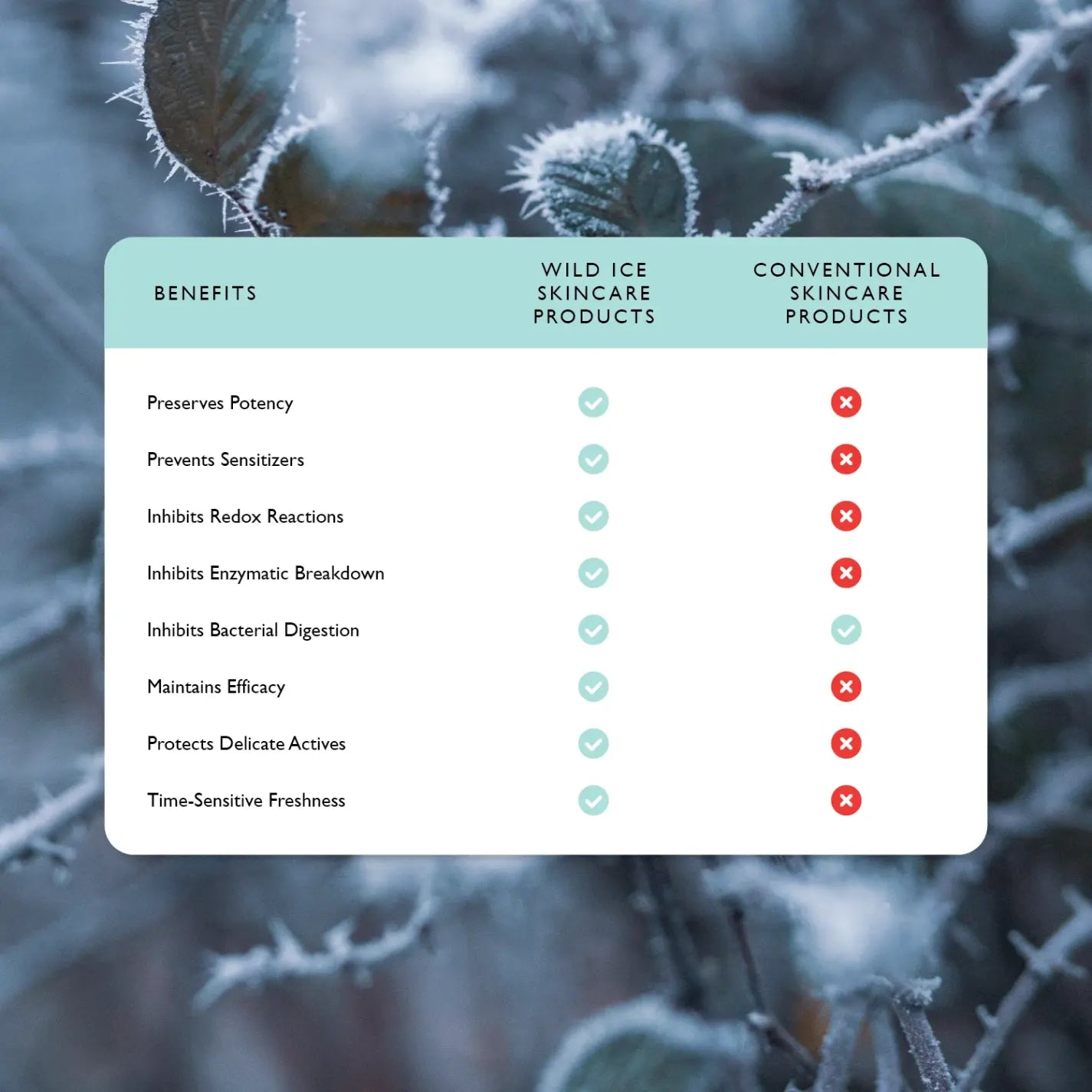 Cold Seems like common sense because
Cold Is Common Sense
✓ Products are fresh & naturally preserved
✓ Delicate actives remain intact & effective
✓ Chemical preservatives are left off your skin
✓ Antioxidants are applied before their oxidation
✓ You get the pristine formula you paid for
Wild Ice Skincare Success Stories
Discover the amazing results achieved by real people who have used Wild Ice skincare products
Why we chill ✼
Preserve Potency

Chilling inhibits all three types of breakdown - Redox Reactions, Enzymatic Activity, and Bacterial Digestion.

This ensures that your skincare products stay potent and effective until the moment of sale, maintaining their efficacy over time.

Freshness Matters

Just like how fresh produce is considered healthier, the same holds true for skincare.

Mini-fridges for skincare collections have become popular because they help maintain the freshness and efficacy of skincare products, and Wild Ice understands the importance of freshness in skincare preservation.

Pure and Safe Formulas

Ingredients in skincare products can break down over time, losing their potency and forming unintended compounds, including harmful sensitizers.

A formula that is not chilled may not stay pure for long, as breakdown and unintended compound formation can occur.
FAQs
Will Rarify help reduce the appearance of pimples and blemishes?
Will Rarify help to sooth mosquitos bites?
How often should I use Rarify?
Do I have to keep Rarify cold?
Blest blemish treatment
I have super sensitive skin and I love this blemish treatment! Takes away the redness and it's so healing. A must have.
Love It
I love this product. It's perfect for spot treating any pimple. I often have very cystic skin and Rarify has been game changing/life saving!
Love it!
I am in love with Rarify Acne Treatment! It's my favorite product so far. It helps heal my blemishes so fast! Thank you, Mila!
My daughter and I are obsessed with Ladyloved!
My daughter and I found Mila at a farmers market in Rosemary Beach in November and had no idea how much we would love the natural essential oils products she makes. My skin is literally the best its ever been. My teenage daughter loves the Rarify for blemishes. I am obsessed with Opal Aura for morning and night.
Wonderful!
I love this product! The Ingredients are all natural and I love being able to pronounce the ingredient list on my products! I've been using it daily for a few weeks and it's working just as well as the medicated treatment I'm trying to get off of!
Love it!
I love the acne spot treatment. It works so good. I put it 2-3 times on my acne and by the end of the next day I see it come out. Amazing 🤩 thank you Mila ❤️❤️❤️
Blemishes
This worked great to clear up any blemishes. I was having a breakout during my cycle! I also love how beautiful the bottle is and how clean the products are. I recommend!
I love my products!
I love the products I got. I my face lols amazing.
Loved the product
It doesn't absolutely get rid of your blemish but I do think it speeds up the healing process! I use the oil when a pimple comes up and until it's completely gone. I will continue to buy this product for sure!
Amazing!
Every product I've tried from Ladyloved has been incredible, and this was no exception! This really does help with my breakouts, and it smells AMAZING! Rarify is my new go to spot treatment because it works! Highly recommend!
GET YOUR ROUTINE CHEAT-SHEET
Receive a personalized routine, take 10% off your first order, gain access to our Droplets reward program, and offer perks to friends. How's that for chill?
Take The Quiz